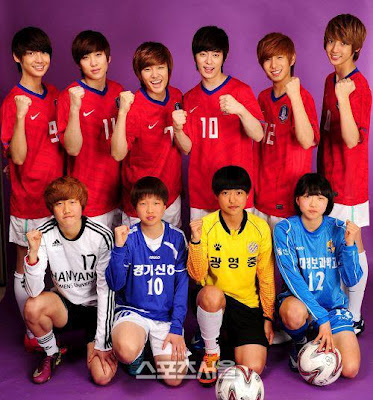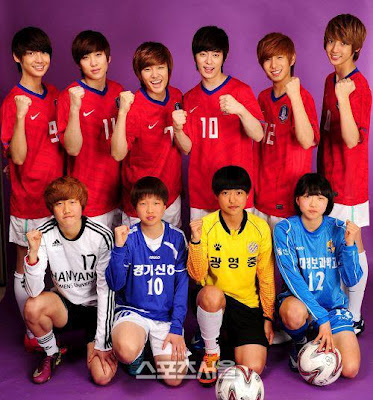 Six member "flower boyband" group
Boyfriend
has started promotions for the 20th Nationwide Football Match as ambassadors.
They took the baton from last year's ambassadors, Rainbow, to promote the beauty of women's football to football fans. Made up of six members, Jeongmin, Youngmin, Kwangmin, Donghyun, Hyunseong and Minwoo, Boyfriend happily said: "Seeing girls of our age show off their superb football skills, we feel really immersed in the magnificence of football, and we're honoured to be the ambassadors for women's football, which has a long history."
Although they are not national players of football, but they have played football before, and also watched football matches on television as fans. To be precise, group maknae twins Youngmin and Kwangmin excitedly said: "Now the women's football team's key player has a beautiful smile that suits her nickname Meixi really well, really superb." During the photoshoot for the promotional poster, the members wore national football jerseys with their names on it, completing it with football shoes and a football. The members of Boyfriend said: "The players participating in this match are all really confident, and the best is that they will have good memories of the match. To ensure that they are able to play to their best during the match, we appeal to football fans to support them."
Due to the fact that an idol group is the ambassador, the female players are all really excited. A participant of this match said:
"I only watched singers on TV and have never seen them so up close. It's really magical. We hope to gain some power from them, and hopefully we'll end our failures."
This match, started in 1993, is South Korea's first women's football competition, and was hosted by Sports Seoul and Korea's Football Association. Into it's 20th year, this time there will be 56 teams, and the competition will be held from the 13th to the 22nd (of April) in schools in Korea.
Source: sportsseoul