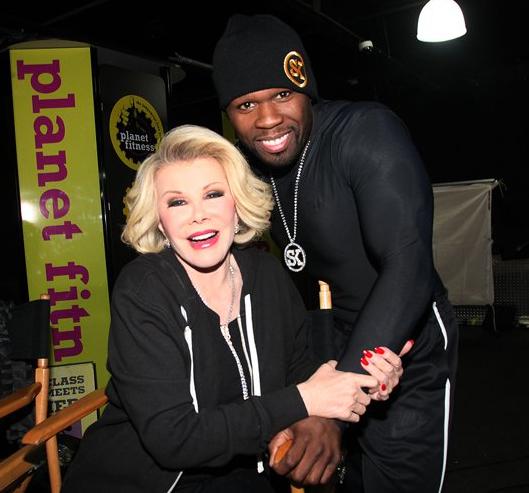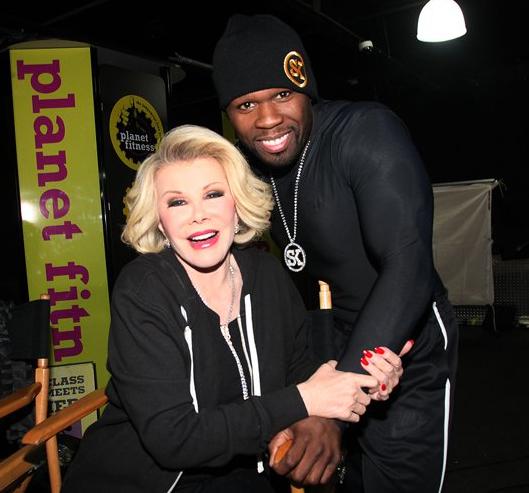 50 Cent recently hooked up with Joan Rivers as they released the new 'Street King' commercial.
Joan Rivers found a more exciting role and took a short break from E! network, as she aided 50 Cent in his latest campaign for his Street King Commercial.
It's no secret that 50 Cent is businessman, but him being able to get Joan River to appear in one of his campaign commercials is a big score!
In the commercial 50 Cent finds himself at a gym slanging his Street King energy shot and making sure that everyone who is at the time has that extra boost to get the work out that will take them to the next level.
Out of nowhere Joan Rivers appears in her finest chinchilla and approaches 50 Cent to score and energy from him. Once she gets a taste of the Street King she propositions her co-star proclaiming, "I got the energy for you 5-0!"
They actually had some chemistry together, makes me wonder what Chelsea Handler thought about the commercial.
Street King was first launched in August 2011. 50 cent originally intended to feed one billion children by donating a meal to youth in need for every shot purchased, but the campaign has been such a huge success that he has surpassed those numbers.
Check out the commercial below and let us know what you think: