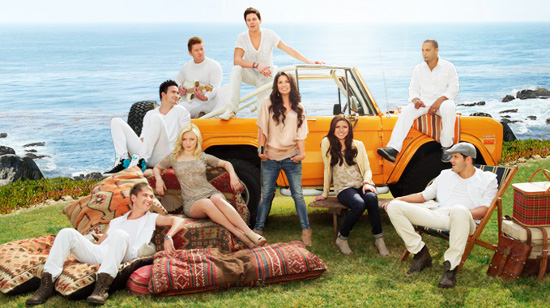 Mrs. Eastwood & Company is headed to E! to join their Super New Sunday lineup. The premiere of the much anticipated show is set for Sunday, May 20th at 10/9c.

Clint Eastwood fans are sure to get a kick out of the show as it introduces viewers to the unconventional family of Hollywood megastar Clint Eastwood, including his wife Dina, daughters Francesca (18) and Morgan (15), and the all-male six member vocal group from South Africa proudly managed by Dina, "Overtone."
Dina and company prove that not everyone Hollywood family has to adopt a Hollywood lifestyle (instead, they can adopt a South African boy band!)
"Nothing is more important to me than family – no matter how you define that," said Dina Eastwood. "People might be surprised by how we live our lives and our unconventional approach, and I also believethat it's hard not to fall in love with my band, 'Overtone.'"
"I'm really proud of my family," adds Clint Eastwood. "They are a constant source of inspiration and entertainment."
For those who aren't familiar with Dina and Clint Eastwood's love story is goes something like this. Dina is a former news anchor who, in 1993, was assigned an interview with Clint Eastwood. She certainly got more than she bargained for as the reporter and the actor/director married three years later.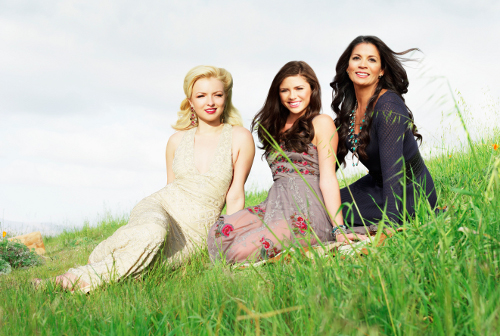 Beautiful and boho-chic, she is a constant fixture in her daughters' daily lives and works to create as harmonious a home as possible. That's not to say that the exuberant brunette doesn't have a hobby: in fact, she has SIX. While in South Africa with Clint three years ago, Dina discovered a six-man vocal group who call themselves "Overtone." She was so moved by their talent that she decided to re-located all six young musical men to Carmel, CA. since then she has taken the role as their mentor, mother and manager.
Francesca Eastwood is the daughter of Clint Eastwood and Frances Fisher, though she also calls Dina "mom." A bit of a 'free spirit,' Francesca is in a serious relationship with her 29-year old boyfriend, famed photographer Tyler Shields. She is his muse, he is her passion. Deeply in love, the couple has been together since 2011 and as a result, Francesca's world and her relationships are changing.
High-school student Morgan Eastwood is compassionate with a heart of gold. She loves her mother very much, but is at that age where mothers and daughters don't always see eye to eye and she is constantly surrounded by her group of close friends. Occasionally embarrassed by Dina's behavior, Morgan is experiencing watershed moments of her adolescence from learning how to drive to finding her own voice. Watching Francesca become an adult and being surrounded by the older boys in "Overtone," Morgan is now on the brink of womanhood.
Comprised of six sexy young men – Emile Welman, Eduard Leonard, Tino Ponsonby, Ernie Bates, Riaan Weyers and Shane Smith – "Overtone" is one of the most popular acts in South Africa and has performed with A-list musicians such as Corinne Bailey Rae and One Republic. Emile is tall, dark and handsome and is the front-man of the group. He and Francesca have a distant history of flirtation…though no one knows the real story. Tino is recently engaged and his charismatic, yet ornery, behavior sometimes causes tension within the group; Eduard is the heart and soul of the group, sweet and sensitive; Ernie can play almost any instrument and has been making music since childhood; Riaan is the "animal-whisperer" of the group – he can woo almost any creature- four legged or two legged and Shane is the crew's self-described "ladies man."
Developed by Executive Producer Jeff Jenkins for Bunim-Murray Productions "Mrs. Eastwood & Company" premieres Sunday, May 20 only on E!
Hip Hop First Class brings you a first class look at the upcoming show. Check out the short clip below and let us know what you think.