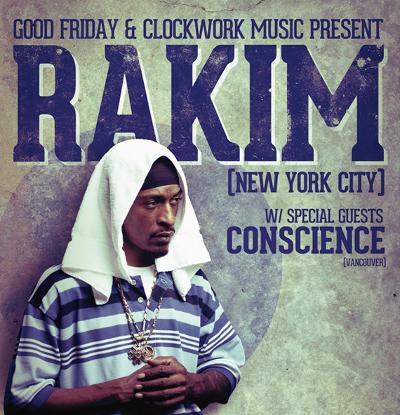 Rakim is widely known as one of the legend in the hip hop game and although times have changed since he first appeared in the scene, Rakim is never one to be left behind form something he created.
Rakim a world wide known Hip hop legend is now set to  be hitting the road at the end of May, this will mark the kick off of  his highly anticipated Canadian tour. Rakim announcement of the upcoming Canadian tour, featuring special guest Conscience and presented by Good Friday and Clockwork Music came was made public today.
As many may be aware by now, Rakim is one of the founding father's to have set hip hop in a new direction. He brought fourth a new flow to the game that was matched with syllable sounds, similes and metaphor's that spawned a new generation of hip hop artists. Even the sickest MC in the game right now, Emenim has admitted on several occasions that Rakim set him forth with his flow long before he became famous. And now Rakim has set his tour dates as he is more focused now than ever to bring his hip hop performances to as many cities possible!
The tour kicks off in Montreal, QC on May 17th at Underworld, with additional stops planned for Ottawa, ON, Saskatoon, SK and Nelson, BC. The quick trek concludes at Vancouver, BC's Fortune Sound on May 27th.
Upon his return, the God Emcee is scheduled to appear at New York's Joe's Pub on June 13th, where he will perform in partnership with Reebok Classics.
Canadian fans are already lining up to get their tickets to see the hip hop legend live on stage!
Official Canadian tour dates below.