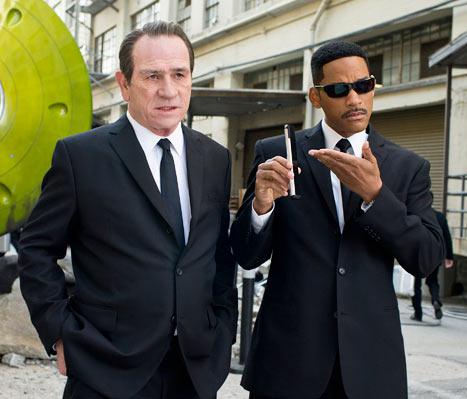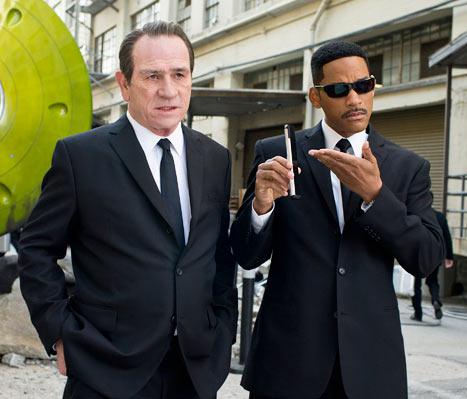 'Men in Black 3' takes charges through Memorial Day Weekend.
Men in Black 3 has proven to be a force to be reckoned with as they have not only taken out aliens, but also managed to knock down 'The Avengers' from the No. 1 position in the movie theater rankings.
The Sci-Fi action movie stars Will Smith, Tommy Lee Jones and Josh Brolin. The movie was a huge success as it grossed $70 million domestically over the four-day holiday, according to an estimate from distributor Sony Pictures.
And just to add some more change to the pocket the movie was also released overseas in 3-D and collected a solid $133.2 million, that gives the movie a total of $203.2 million worldwide. That is very impressive considering the fact that at most times trilogy movies tend to bomb.
Min in Black 3 is the fourth-biggest release of all time, with its $1.3-billion worldwide gross behind only "Avatar,""Titanic"and the final "Harry Potter" movie, which means that a part 4 to the movie is now very likely to be considered.
Many speculated that "Men in Black 3" would bring in at least $250 million on its release. Sadly those numbers were not acquired but never the less the movie and sales are still a success considering the way the economy is going right now.
Rory Bruer, Sony's distribution president, had a few comments on the performance of the movies sales and its expectations.
"I wouldn't think that anybody could feel that the kind of business the picture did is not an excellent start," Bruer said. "Despite the budget, we're definitely going to come out of this in a very positive way."
The "Men in Black" franchise was first brought forth to the big screen in 1997. The first installment of the movie was a hit grossing $589 million worldwide. Part 2 of the movie was good but not great as it made $442 million globally.
"MIB3" performed best in China, where it sold $20.6 million worth of tickets and had the second-biggest opening of the year in the country. It also had a very strong support in Russia, where its $18.9-million start was 25% higher than the opening of "The Avengers."
All in all the movie is set to go down as a success and just may pick up numbers considering the fact that most spent the holiday weekend visiting family. So we may see another spike in ticket sales this entire week leading up to next weekend.
Photo Credit:usmagazine.com