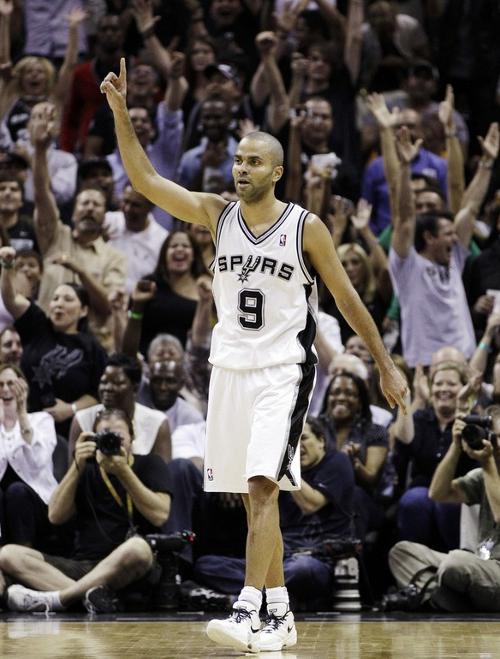 San Antonio Spurs outplayed the Oklahoma City Thunder 120-111 to take a 2-0 lead in the NBA Western Conference finals.
San Antonio Spurs point guard Tony Parker was the answer to the Thunder's offense during Game 2 of the NBA Western Conference basketball finals in San Antonio, Texas, May 29, 2012.
He scored a total of 34 points with Manu Ginobili trailing at 20 as the Spurs continue their perfect playoff record with their latest win over the Oklahoma City Thunder in Game 2 on Tuesday night.
After getting schooled in Game 1 of the series the Thunder finally found a way to slow down the San Antonio Spurs, but it was not enough to  enough to beat them.
Another highlight of the game was the fact that the Spurs set an NBA record with their 20th consecutive victory bridging the regular season and the playoffs.
Kevin Durant scored 31 points and Russell Westbrook had 27 points with eight assists.
"There are no moral victories for us," Durant said. "We were down. We dug ourselves a hole. We did what we normally do, which is fight all game, and we lost."
The Thunder was down by 22 points in the third quarter, but quickly rethought their strategy as they made what looked to be a comeback, that was short lived.
The Spurs offense lacked luster for a bit in the fourth quarter, but they pulled it together and slammed the doors shut on the incoming Thunder offense.
"There's a reason why you do it, to kill the rhythm," Parker said. "I think it got us out of our rhythm."
Only 14 teams in NBA playoff history have overcome 2-0 deficits to win a series, can the Thunder be number 15? Probably not as the Spurs seem to be playing a must win attitude every time they step on the court.
"First, we've got to worry about Game 3," Westbrook said. "Regardless of what's going on with this last game or the next game, we've got to worry about Game 3 and come in with the same mindset and try to get a win."
Parker is given much of the credit for keeping the team together during game 2 and as many saw he even took a bit of yelling from Popovich when it seemed that he was getting a bit too confident, even with a lead in their hands.
Parker went 16 for 21 from the field, including a 3-pointer.
"Tony's been great all year," Popovich said. "He's been really focused the entire season."
Game 3 is Thursday night and the Spurs will be in enemy territory as they play in Oklahoma City.
Photo Credit:knoxnews.com