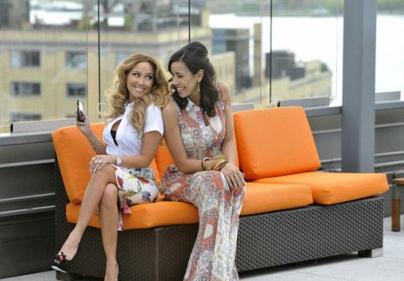 Empire Girls has thus far been a success as the first show just aired last week and now people are waiting to see what develops in this week's episode.
The response to this show has been amazing as Julissa and Adrienne have actually captivated a wide range of fans with their dedication for work, love for life, but more importantly just keeping it real when on camera.
If you have yet to tune in to the show let me clue you in on what you have been missing.
The new Style Network docu-series Empire Girls: Julissa & Adrienne follows best friends Adrienne Bailon (3LW, The Cheetah Girls) and Julissa Bermudez (106 & Park) as they pursue new career opportunities and love in the Big Apple.
Bermudez and Bailon met in 2006 on the set of the MTV feature film All You've Got. While filming, they developed a close bond and have remained steadfast friends, united by their shared Latina heritage and desire to make it big in entertainment. Energetic and headstrong, Bermudez's current professional goal is simple – to become the Latina version of Tyra Banks. Bailon, on the other hand, wants to be seen as an acting, singing and dancing triple threat like Jennifer Lopez, but she needs to shed her child-star past in order to reach her goal.
One important fact that I feel needs to be mentioned is that Adrienne has long moved on from Rob and is now a full-fledged star, which has made in impact in entertainment television with her own talent. She is now pursuing a career as a solo artist and shows much promise except for her one kryptonite which happens to be her Twitter account that constantly gets her full attention. However we think she is going to do great in her new career, but the only way to know for sure is by tuning in every week!
Check out the clip below: