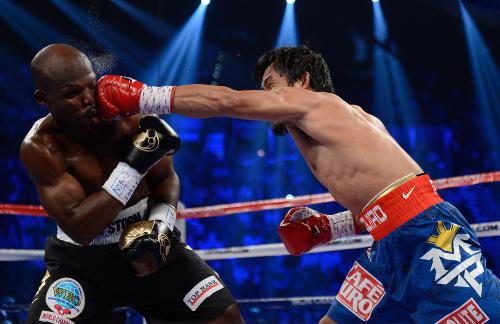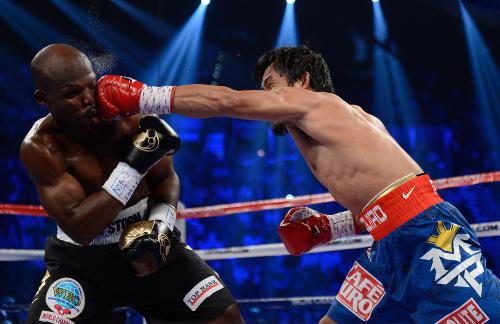 Manny Pacquiao has long been a dominant force in the boxing world and is even responsible for keeping fans attention to boxing with his athletic display time and time again, however this time the cards would flip on him as he was dealt his first upset in seven years.
Pacquiao has been dethroned form his welterweight chair as Timothy Bradley won in a split decision. But believe many will long question this victory as no one saw this one coming! The match has now been eyed with controversy, as the crowd booed loudly when the decision was announced.
Pacquiao landed more punches and seemed to land the harder punches. However the scorecards told a different story when they were added up, Bradley was up 115-113 on two scorecards and behind by the same margin on a third. The Associated Press had Pacquiao winning 117-111.
Pacquiao turned the fight into an all out brawl, using his power to dominate Bradley in the early rounds. Bradley may have had a few spurts that landed on a couple of rounds, but he was far from putting on a show worthy of beating a champion.
"I thought I won the fight," Bradley said. "I didn't think he was as good as everyone says he was. I didn't feel his power."
Bradley was very badly hurt especially in the fourth and fifth rounds, and Pacquiao showed true aim landing the straight left time and time again. Still, he seemed in control of the fight everywhere but on the judge's scorecards.
Ringside punching statistics showed Pacquiao landing 253 punches to 159 for Bradley, who vowed before the fight to take the title from Pacquiao.
Bradley was so confident that he had oversized tickets printed up for a Nov. 10 rematch that will now likely happen. It's almost as if he knew something that we didn't.
"Can you believe that? Unbelievable," promoter Bob Arum said. "I went over to Bradley before the decision and he said, `I tried hard but I couldn't beat the guy."'
"I did my best," Pacquiao said. "I guess my best wasn't good enough."
Pacquiao said he thought he was in control of the fight and was shocked when the decision went against him.
"He never hurt me with his punches, most of them landed on my arms," Pacquiao said.
Arum said there would be a rematch, though he criticized the judging. Arum has contracts with both fighters and even mentioned that s Bradley's manager had it 8-4 for Pacquiao.
"We'll make a lot of money on the rematch, but this is ****** nuts. People don't even know what they're watching. They're trying to kill boxing," Arum said.
I could not have agreed more with that statement!
The upset was a surprise even for Bradley as you see his reactions when he was announced as the winner. When asked about his victory he said he needed to go back and watch the tapes to see if he really won. This does not seem like the words of someone who just won the biggest fight of his life, as you can see even he was perplexed as to why he was given the victory.
Bradley was on the ropes early on and often. He seemed out of Manny's league. Manny was landing power shot after power shot but, I give Bradley some respect for having a good chin on him.
If you missed the fight then you missed plenty! Since before the fight there was already drama unfolding as the fight was expected to start immediately after the Miami Heat's victory over the Boston Celtics. However, Pacquiao was missing.
Michael Buffer introduced celebrities, current champions, former champions and the U.S. Olympic boxing team. Still, Manny Pacquiao was yet to be found. Finally, his location was revealed as he was on a treadmill stretching his calves in an attempt to avoid the cramping that has troubled him in his past two fights.
On a positive note though Bradley's infamous head butt was never a factor in this fight which many feared would end the fight early for Pacman.
It was the biggest fight of Bradley's career earning him a minimum $5 million payday. The rematch will likely be in the $20 million area. More importantly though Manny Pacquiao's loss has surely ruined any plans for a fight with jailed Floyd Mayweather Jr.
I have to say decisions like this one are the sole reason why boxing has lost its popularity in sports entertainment, it's a no wonder many fans have jumped on to the UFC boat. I guess UFC will most likely lead the way from here on forth!
Photo Credit:Kevork Djansezian – Getty Images