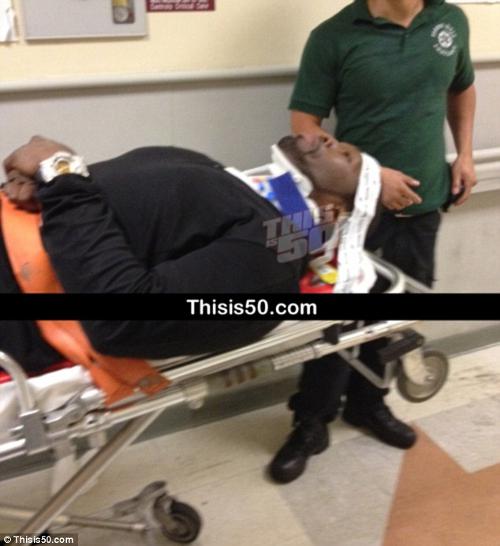 50 Cent has long had his close encounters with death, but as of lately the G-Unit general has had more near death experiences than what he did when he was out on the New York streets making dough.
It has not even been a month since Cent was last hospitalized for a blockage that affected his small intestine. Well reports ran rampart early this morning stating that had been in a bad car accident!
"Curtis '50 Cent' Jackson was involved in a car accident in New York early Tuesday morning. He was taken to New York Hospital Queens where he was treated for minor neck and back injuries," said a spokesperson for 50.
"He was released this morning and is doing fine."
50's own website Thisis50 was the first to break the story early this morning. It is said that Fiff was riding his bullet-proof SUV, which almost flipped over after it was rear-ended by a Mack truck while driving on the Long Island Expressway in New York City.
They were able to provide multiple photos that showed the hip hop artist on a stretcher wearing a neck brace. 50 and his driver were both rushed over to a nearby facility to be checked and x-rayed after they had mentioned that they had neck and back pain.
50 is well known in the streets and the hip hop community as being a survivor for having made it through a brush with death in 2000. The one time drug dealer was shot nine times outside of his grandmother's home.
Shortly after he was dropped by his former label only to be taken under Dr. Dre and Eminem's wing, who helped propel him to the top of the hip hop game. Since then he has been on the rise with hip hop and other business endeavors.
Fif's latest mixtape The Lost Tape was released in May and on July 3 the hip hop star will be releasing his oft-delayed fifth studio album 5 (Murder By Numbers).