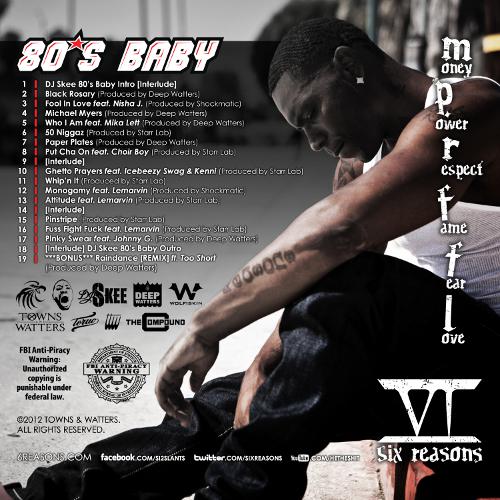 Six Reasons is one of the most talked about upcoming artists in the industry today and with his success on the rise he has decided to give his fans and critics a gift in the form of a free mixtape. The West Coast rapper just released his new mixtape 80s Baby presented by DJ Skee.

The mixtape features the buzzed-about single, "Michael Myers," a remixed bonus track of his hit "Raindance ft. Too $hort" and production by Deep Watters, Shockmatic and Star Lab.
Fresh off a crowd-pleasing performance at Power 106 LA's Powerhouse pre-party, Six Reasons recently shot the music video for "Michael Myers," which fans can look forward to in the coming weeks.
On 80s Baby, the opinionated Watts native, who has overcome many personal challenges to get to where he is today, covers topics ranging from fatherhood and females to love and loss and says he took time between his last mixtape, Do Not Pass Go, Do Not Collect $200, and 80s Baby to "let life happen."
In case you aren't too familiar with the rising rapper, we are going to provide you with a crash course that will highlight the reason he will climb to the top.
The rhymes created by Six Reasons reflect the struggles he faced growing up. His life experiences are what makes his music and whether he is acting or receiving endorsements from multi-platinum artists, Six Reasons has made himself a key player in the game as he converted his struggles into a true art form.
Six Reasons first took became a major player in the rap game as a member in Watts' Snowman Cliq. From there, he gained major notoriety in the hood and collected a number of endorsements from heavy hitters including 50 Cent, G-Unit, Floyd Mayweather and Busta Rhymes.
Six Reasons also took to the acting world and has been able to gain numerous guest starring roles in TV/Film including "Gridiron Gang," "The Shield" and "Gang Tapes."
With so many accolades Six Reasons is a sure fit in the top of the music game and the crazy part is that he is only getting started!
Click here to download 80s Baby and check out the new 80s Baby feature video x DJ Skee, which includes Nipsey Hussle, The Game, Too $hort and more.