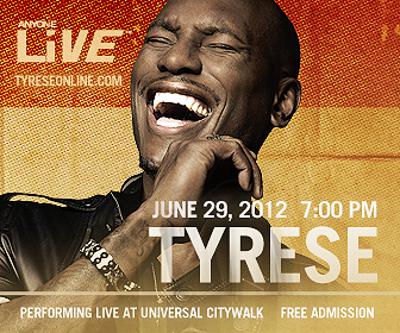 Tyrese is back  on track as he headlines this Friday, June 29th, at Universal CityWalk's® "5 Towers" state-of-the art concert venue in its one year anniversary! And get this, the performance will be FREE!
The Hip Hop sensation, who is also well known for his lead roles in the blockbuster series "Transformers" and "2 Fast and 2 Furious" is getting back in the game and giving fans what they want, great music with a one of a kind performance.
Several faithful fans have been awaiting his return to the stage and many were grateful to learn that his next performance will be free to all that would like to attend.
As part of CityWalk's summer Music Spotlight Series, Tyrese will take the stage at "5 Towers" at 7 p.m. to perform hits from his latest album, "Open Invitation," along with his number one single "Stay," other soulful sounds may include classic hits like the sultry "Sweet Lady" and the smash track "How U Gonna Act Like That."
Tyrese will also hold a meet and greet for the first 100 fans that buy Tyrese merchandise. These lucky fans will receive a wristband to greet the performer, take pictures, and have autographs signed backstage.
For those of you that know the actual price of such an honor, well you know you are getting a once in a lifetime deal, which is why they have limited to only the first 100 fans.
Not one to be known to be late anywhere, Tyrese is expected to hit the stage and get the concert going at 7:45 p.m. sharp!
Universal CityWalk debuts the all-new Music Spotlight Series, a free, outdoor concert program at the state-of-the-art "5 Towers."  This showcase of music and entertainment's emerging and established talent offers an eclectic array of chart-topping recording artists, the hottest club and radio DJs, and dynamic dance crews.   The series features Spotlight Fridays, Spin Saturdays, and Retro Cover Bands and Latin Sundays as part of this unique platform highlighting Los Angeles' diverse music scene.
Make sure you plans in advance to attend the event as this will be a concert that is not only worth your while; it won't cost you a dime to attend! Well except maybe some gas money, but hey who's complaining!