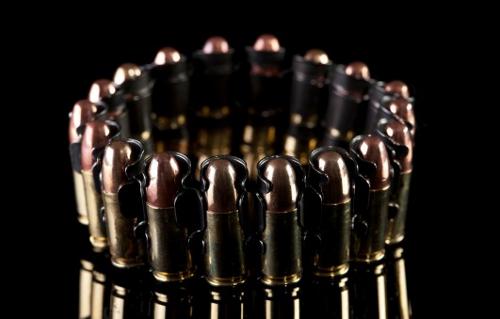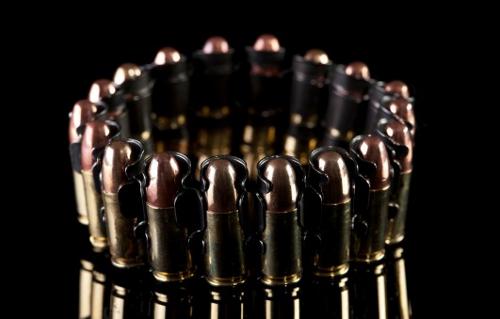 Bullet Bracelet; what comes to mind when you hear that bullets are now being incorporated into fashion accessories? Well the guys up at Bullets2Bandages decided to stop wondering about the idea and start making it a reality.
Hip Hop has long been a culture that has brought forth arts, music and new trends to the newer generations of today. Time and time again they have incorporated new sounds for new music, unbelievable dance moves, and more importantly new styles in the fashion department.
Today we are proud to say that the Bullet Bracelet from Bullet2Bandages has brought forth a unique bracelet that is sure to make waves in the hip hop scene.
The bracelet is a unisex 9mm hand pressed bullet bracelet that is made from reclaimed bullets, machine gun linkage, and features a custom clasp design.
We were recently sent a Bullet Bracelet for review consideration,  so that we could see if it would be a fit with our unique taste in fashion.
As you know by now we always like to stay fresh when it comes to new gear, but more importantly we love to stand out from the crowd and stay one step ahead of the game with unique new products. And I have to say the Bullet Bracelet is one accessory that will not only make waves in the hip hop community, but also change the way we look at ammunition.
There are countless rappers and hip hop singer who floss out their big chains and diamond earrings; sure they may be swanky and flashy, but let's be honest once you've seen one you've seen them all. I mean seriously, do rappers really need to wear big chains just to show their worth?
Now picture this, you walk into a room that is full of celebs wearing their gold and diamonds, who all pretty much blend in to a crowd of dullness. But there you are with your Bullet Bracelet, it's very hard not to notice it, as a matter of fact it kind of draws that cool bad boy look to you. Suddenly you have everyone swarm to you wanting to know exactly what kind of bracelet you are wearing and where they can purchase one as well. That my friends is the type of entrance that everyone remembers, but better yet the bullet Bracelet is a topic of conversations that keeps on giving.
Every time a Bullet Bracelet is purchased through Bullets2Bandages they donate up to 15% of the profits to organizations that benefit veterans. Think of it as a way of saying thanks to all the Veterans that helped bring peace and freedom to our lives.
Want to hear another cool factor about the bracelet? It is made in America from bullets that were actually fired at one point. Now that's an ice breaker that is sure to make plenty of people jealous!
I for one was very impressed with the unique design of the bracelet. Right out of the box it was too short for my wrist, but luckily the guys at Bullets2Bandages know first-hand how important it is to stay prepared which is why they include an extra link along with a bullet to make the bracelet longer. You can also take links off and make the bracelet shorter for the ladies with small wrists.
The bracelet may seem a bit heavy the first few minutes but after a while you completely forget that you are wearing it except for the fact that everyone you bump into will ask about the bracelet. The bullets are real except that they have no charge or gun powder in them, making it all that much more exciting when people actually realize that the bullets are real shells.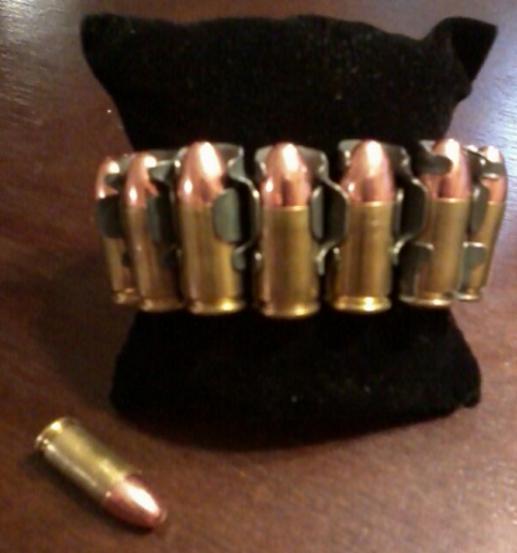 Bullet Bracelet
The true definition of repurposing; The Bullet Bracelet combines reclaimed bullets, machine gun linkage, and a custom clasp design that is unlike anything you have ever seen. A must have for those who love creativity and fashion.
9mm Hand Pressed Bullet Bracelet
Classic Finish
Made in the USA
Repurposed Military Grade Machine Gun Linkage
Overall, the Bullet Bracelet was a hit as many people have approached me while wearing it eager to learn more about it. The bracelet is a sure attention getter plus an ice breaker. It not only looks good, but its unique design will keep you 10 steps ahead in the style department. Thus, far I've worn the bracelet to many public places including several events. I can guaranteed that it will only be a matter of time before your favorite hip hop artist is seen wearing one as well.  And at $49.95, you just can't beat the price for the one of a kind bracelet you will be purchasing.  Now available exclusively through Bullets2Bandages online store.
About Bullets2Bandages
Founded by former Naval Explosive Ordinance Disposal officers Erik Spalding and Cole Evans, Bullets2Bandages is a socially conscious apparel and accessories brand based in San Diego, CA. The brand is inspired by sacrifice and designed to fuel change by raising both awareness and money for various non-profit organizations that serve the veteran community.
New to HipHopFirstClass? We bring you the latest Hip-Hop news–Free in your mailbox every morning. Click here to subscribe !