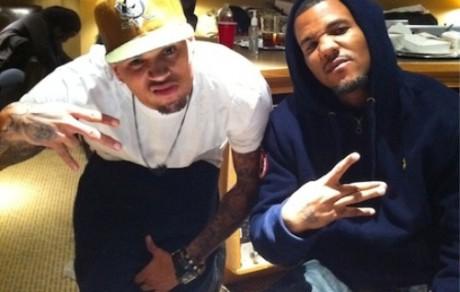 Hip Hop Beef has long been a part of the urban scene but as of lately things in the music world have been shook up as Chris Brown decided to go on a verbal attack towards Drake as he released a diss track alongside The Game.
With the June 14 bottle fight still lingering on everyone's mind, Chris surprised fans as he went on the offensive and released a new track Saturday; however Drizzy may not be too happy with the song itself much less with Breezy.
The diss track, "I Don't Like," was released on djorator.com, by Chris Brown and The Game himself.
Chris Brown used Chief Keef's "I Don't Like," to unleash a small barrage of his ammo for his new nemesis, Drake. One thing we can be certain of is that Chris Brown made it clear that he has no ill will towards the other members of YMCMB, pointing out that his beef is with Drake alone and it is most certainly over Rihanna.
Check out the verse that Chris polished up on the track specially delivered First Class to Drizzy!
"A f-ck ni**a, that's that sh-t I don't like/They throwin' bottles, I'm throwin' models just 'cause I give a Itchbay long pipe," raps Breezy. "I be singin', he be singin', so it's on, fight/ But hold up, I ain't give a ni**a no green light/ This head up, my bread up, one on one, what you scared, bruh?/ Matter fact, take care bruh, you a pu**y ni**a/ My ni**a Tunechi, yeah that ni**a nice/ Shout out to Nicki, man, that A$$ tight/ Them eyebrows, man, them sh-ts is yikes/ OVO, you overdosed, screamin' YOLO no, I live twice."
Now for those of you that may have missed it Chris is referring to Drake's recent album, "Take Care," which was released last November.
And just to make matters a bit more interesting it is said that Drake was booed as his name was announced after Chris won the Best Male R&B Artist at yesterday's BET Awards.
Now, ever since the fight occurred Drake has remained silent and his rep has insisted that he had nothing to do with it, but I guess the track would confirm otherwise.
One thing to note though is that Drake has been troubled by the brawl as he had a few words to share with his audience in a New York concert.
"It's last call and you're really too drunk to give a fuck," said Drake. "A ni**a in the corner is standing there looking at you funny. You bump elbows with him on the way to the bathroom, but really there's only one ni**a that you got to think about."
Well the stage has been set and Chris has thrown the first jab and made his first move, with that said we only have one thing to say to Drake: Your Move….
Check out the diss track in full audio and let us know how you like your hip hop beef, rare and bloody or well done!