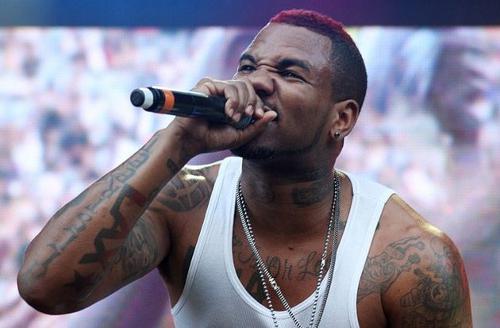 Hip Hop Beef has long been a part of hip hop, but what used to be a means of upping your rhymes has now turned into deadly altercations that leave both sides losing.
The Game and 40 Glocc have been the latest hip hop rappers to engage in an ongoing war. The latest of their battles was set last weekend.
Hip hop beef has taken a turn for the worst as rappers are now taking guns as a show of force rather than dealing with the beef in another manner. Such has been the case for 40Glocc and The Game as they have escalated their feud to the next level. For those of you not familiar with 40 Glocc he now goes by the name of Big Bad 4-0 was originally born in Galveston, Texas and began his music career in 97.  40 Glocc is currently lined up with Infamous Records and G-Unit Records. Now we all know how The Game and 50 Cent hold plenty of hatred towards each other so it's no surprise that 40 Glocc and The Game show the same emotions towards one another.
Their latest fight happened this past weekend as it is reported that The Game and his associates jumped 40 Glocc during a party at an undisclosed Los Angeles mansion.
It was not long after the altercation that The Game released the fight that he had recorded with his iPhone which shows 40 Glocc running towards the bushes and in general running for his life.
It is also said that The Game was holding a gun aimed at 40 Glocc, but 40 was able to talk him out of using it. Now as always there will be two sides for every story and we've managed two dissect bits and pieces from both sides, but as always there seems to be one side that may be holding a hallucination of what really happened that day.
40 Glocc said that The Game edited the footage to show that he was running, but it never shows when he got jumped or when they pulled guns on him.
Just to make matters a bit more interesting and to hype up this hip hop beef to the levels of a Cheal Sonnen/Anderson Silva pay per view fight. Both artists called in to Cosmic Kev and gave their input on what "really" happened.
The game called in first and explained that 40 Glocc's bully behavior is what set him off in the first place.
"This is the guy who ran up on Weezy with 40 guys pulling out guns, you know? This is the guy who ran up on Plies at Jamie Foxx's video shoot with 40 guys you know? This is the same guy with five or 10 guys with him at the pool party, I don't know. They all disappeared, he ended up by himself. That's how it happens when you're rolling with suckers."
Not only that, but The Game says he will release new showing 40 Glocc whooped on by member of his crew. Game says that he was looking to pick a fight with but he resisted taking any further action because he did not want to face legal action.
The Game mentions "because then I'd get 25 to life," in response to why he did not keep beating on.
"What I wanted to do was beat his ass like I wanted to … without really putting him into a position where he was a vegetable or something."
Still claims that he was jumped by The Game and his crew and that they were carrying guns.
Check out the phone calls below: