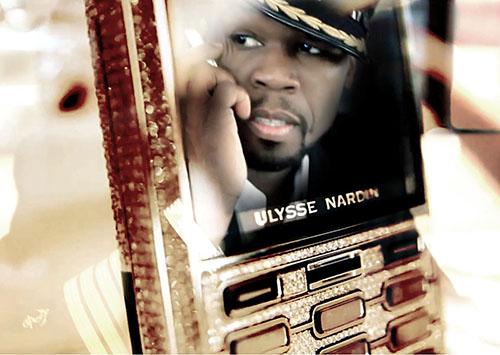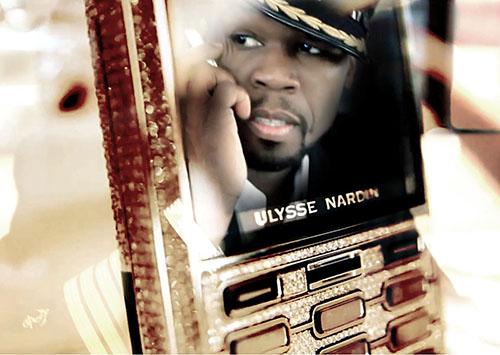 50 Cent has been making moves left and right, but the man still knows how to floss the finer things in life as he was spotted featuring the The Ulysse Nardin Chairman, the world's first and finest luxury hybrid smartphone,in his new "Double Up" Music video.
So what does this mean for the music mogul who seems to dabble in everything that makes money for him? Well at this point we have no reports that he is in any way committed to a contract to promote the one of a kind smartphone, but we do know that the man is business and knows how to look like a businessman.
The Ulysse Nardin Chairman has taken a whole new level on blinged out smartphones as it comes surrounded with 18 karat white gold and over 3,100 round brilliant cut hand-set diamonds of the finest quality that total over 20 carats. Can you say Swanky! If you are looking to make a statement of how successful you are then you need to have the Chairman Diamond Edition!
The Chairman features many of iconic watch brand Ulysse Nardin's iconic design elements including the brand's distinctive mechanical watch rotor. Displayed on the phone's rear side beneath sapphire crystal, the fully functional rotor creates kinetic energy in the same fashion as a wristwatch, wound automatically by the natural motion of the owner. Not only that, but the Chairman incorporates a working crown that can be hand-wound.
Both the rotor and crown fuel the Chairman's power reserve.  In honor of Ulysse Nardin's founding year, only 1846 pieces of each Chairman style are available, which means that the Chairman will be in a league of its own when it comes to pricing!  The smart phone is hand-assembled and made of over 300 handmade parts fashioned from the finest materials.
Of course most of us won't be able to afford this priceless smartphone, but you can always admire the beauty and craftsmanship of the Chairman and perhaps even set your goal to obtain one. I know one thing is sure the Chairman makes my Android look like a toy.
Check out 50 Cent's "Double Up" music video and watch for the Chairman: