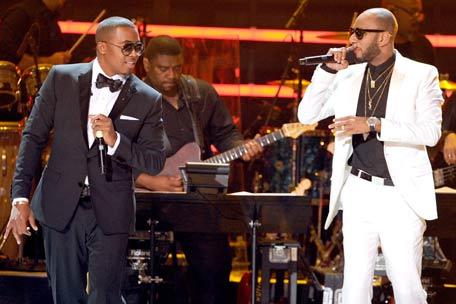 Nas has long been a heavyweight rap legend, but his beef with Jay-Z was one of the most prolific beefs that truly brought out the best art form of rap from both artists.
Nas had "Ether" while Jay-Z brought "Takeover"; two different styles, but in the end they both made their points loud and clear! Everyone will forever remember the 2001 rap beef between these two iconic rappers and many may still argue about who actually won the battle. Though that question may still be up for controversy one thing is a fact, both of these rappers were well ahead of the game during their time.
Large Professor was recently interviewed about the hip hop beef and during the interview he spoke about how there was an original version of "Ether" that was produced by Swizz Beatz that was never released!
Large Professor also confirmed the fact that Jay-Z dhowed Nas his first Tec-9 while they were touring with him.
"It was just a matter of Jay stating the facts," Large Professor said.
"He was trying to bring a lot of facts to the table, and he was going at Nas. Someway, somehow it as a, 'Yo, you was on tour with Large Professor' type of thing. We was all on tour—on that same level and all of that."
Large Professor also admitted that both artists were very competitive and would always battle each other, in friendly terms. However, in the beginning none of them had ill feelings about one another until certain issues and perhaps pride pushed them to the brink of war.
Nas released "Last Real Nigga Alive" and Jay-Z released "Blueprint 2", where they both continued to throw shots at each other.  But yet none could gain considerable ground on the other. It was almost like a chess game that always resulted in a stalemate.
Even though the hip hop beef was squashed there was still plenty of action that the fans never got to see. For one, Hot 97 declined to allow Nas to hang a Jay-Z look alike in an efficgy during a Summer Jam concert. But the kicker is the fact that there was a more malicious version of "Ether" that has never been released.
"When Nas was first recording "Ether" it was over a Swizz Beatz beat, and he was getting at him," Large Professor added.
"That was the original lyrics about, 'It should've been you on the plane crash,' and all of that. I was there and I was kind of hype, but you know I'm like an adrenaline junkie."
Large Professor also admits that he thought Nas had an edge over Jay-Z due to the rhymes on "Ether."
I for one will probably lose sleep at night thinking about the original "Ether" track that was never released. If I could only get my hands on the track, it would be a fans and publishers dream! No word though on whether the track still exists, but I imagine that wither Swizz Beatz or Nas has a copy somewhere.
Photo Credit:theboombox.com