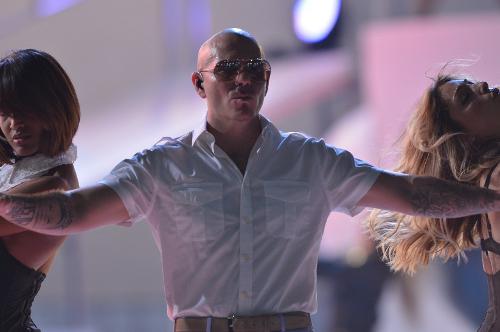 Pitbull is set for today as he will be one of the many star acts that will be performing in this year's "Premios Juventud."
With time winding down before the Awards shoe kicks off we were able to get a hold of some exclusive rehearsal photos for world known hip hop star Pitbull (Mr. Worldwide) who also happens to be nominated for seven "Premios Juventud" awards and will also be performing his most recent single, "Back in Time."
Since its debut in 2004, the "Premios Juventud" first debut was back in 2004 and since then the awards have been a huge success. In 2011, the live broadcast of "Premios Juventud" helped Univision rank No. 1; making a clear statement that the "Premios Juventud" is not only here to stay, but also growing on a yearly basis.
Univision promises to make this year's show a must see as their main theme will feature "superheroes" along with a group of celebrity hosts that no other Hispanic awards show has ever assembled. That's right they will be pulling out all stops and then some!
The show will be hosted by Alicia Machado, Ana Brenda Contreras, Chino y Nacho, Eiza, Gerardo Ortiz, and Wilmer Valderrama.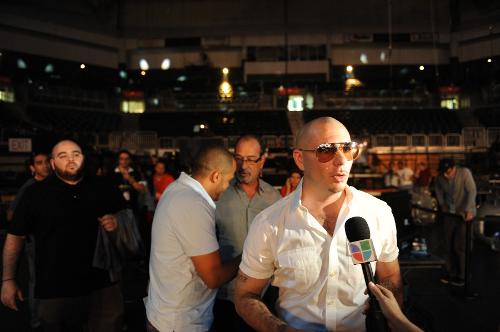 Hispanic stars will be in attendance and some will even take the stage during the ninth annual edition of Univision's "Premios Juventud" (Youth Awards). Confirmed performers to date include 3BallMTY, Belinda, Beto Cuevas,  Flo Rida, Chino y Nacho, Espinoza Paz, Jesse & Joy, Juanes,  Pitbull, Prince Royce, and Romeo Santos.
"Premios Juventud" has also decided to invest in our youths future as they will award two scholarships to deserving high school seniors of Hispanic heritage. The "Premios Juventud" scholarships will honor one student with $50,000 and one runner-up with $25,000, sponsored by State Farm.
One more thing that makes this award show very unique is that "Premios Juventud" goes beyond traditional award ceremonies, allowing young Hispanics to honor their favorite celebrities in five distinct areas: Music, Movies, Novelas, Sports, and Pop Culture. All of the nominees are determined through votes cast by thousands of fans on   www.PremiosJuventud.com.
Univision Network will air the 2012 "Premios Juventud" show LIVE from the BankUnited Center at the University of Miami on Thursday, July 19, 2012 at 8 p.m. ET/PT (7 p.m. Central).
For more info and up to date news on the event make sure to engaging on social platforms including "Premios Juventud" forums, on Facebook.com/PremiosJuventud and Twitter via @PremiosJuventud.
Check out Pitbull's Exclusive rehearsal photos below:
Photo credit: Univision Interactive Media (UIM)