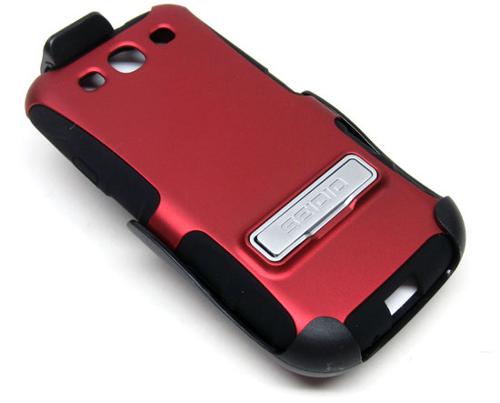 Seidio has long had the interest of its customers in mind and when you asked for a phone case and holster that would keep up with your active lifestyle. Seidio not only listened to your needs, but they also responded.
Seidio has been one of the first to embrace the Android platform with open arms. They make high-quality accessories for mobile devices, which include smartphone cases, extended batteries, and tablet accessories. And with a void in the Galaxy S III phone case market, Seidio has now introduced the Active Combo case for the Galaxy S III.
After being intrigued by the style of the case, Seidio provided us with an Active Combo case, so that we could test its function and durability.
Here are some quick features for he Active Combo:
ACTIVE® case
– Overall thickness of only 2.2 mm
– Interior casing made from impact absorbing polymer and exterior skeleton provides extra protection at impact points
– Easy to put in and pull out of your pocket or purse and grooves for easy gripping
– Compatible with ACTIVE® holster
ACTIVE® Holster
– Felt-lined holster with face-in design keeps your Samsung Epic 4G safe
– Unique spring clip lifts for quick access and easy removal
– Adjustable swivel belt clip with 7 rotating angles
– For use with ACTIVE® case only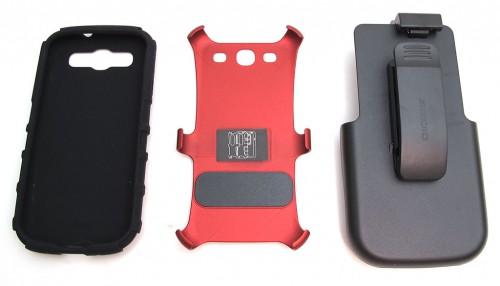 Now on to the good part, the actual review for the Active Combo!
Well first things first, we have to give credit to Seidio for actually coming up with a combo that way people have everything they need all in one purchase. I know I've had to find a case and then a clip that fits that case one too many times and lets' face it that can be downright frustrating and time consuming.
Now here is how it all went down, after combining our Galaxy S III with the case we found that the case fits very snug on the Galaxy S III, thanks in part to its two layers of protection. The first layer consists of a silicon layer that is wrapped around the phone, a second, hard plastic layer that slips snugly over the silicon layer. This provided our Galaxy S III some extra shock absorbency having both a hard layer to absorb the impact, and then the soft silicon layer to distribute the remaining impact.
I don't think Robocop had this much protection!
The dual-layer protection does not impose on the smartphone as the Active Combo leaves all the Galaxy S III's free of any disturbances. On the rear side of the case is the Seidio insignia etched into a piece of aluminum that makes the phone look very classy. But here is the kicker(sorry I could not resist the joke), the Seidio insignia is also a kickstand! Now how cool is that?!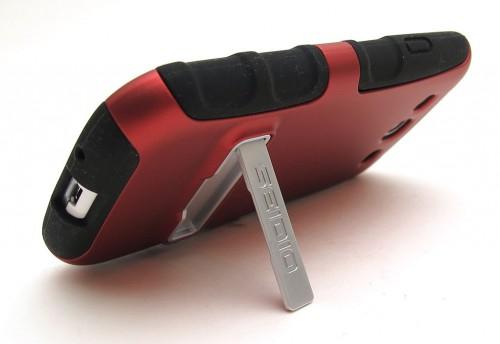 Worried about the kickstand popping out at any moment, well you'll be glad to know that it is held into place by strong magnets.
The Active Combo case also comes with a belt clip giving you straight access to your smartphone with the flick of a thumb. This may appeal more to men than women, but it holds your Galaxy S III safely and securely. The belt clip is shaped to hold the bottom of the device in place, while a top clip on a strong spring holds your device in place at the top. All in all this clip was strong enough to stay put even when I went into a full sprint and had the phone clipped to my belt.
Now here was the scary part, I talked myself into actually dropping my smartphone for the sake of the review. This was something that had to be done to see how much protection the Active combo actually provides. After a 6 ft drop and what seemed to be an eternity I picked up the Active combo from the floor and checked my Galaxy S III and gave it a thorough inspection.  And there was not a single scratch on the smarphone! Major props to Seidio on the solid phone protection with the case.
The ACTIVE comes with a Holster designed specifically for that Seidio style.  The holster is lined with felt for scratch-free use, and features a face-in design for protection.
Overall the Seidio Active Combo case is a perfect case for the Galaxy S III, the only thing that I would change is that they give the ladies an option of a more girlie design for the case. Other than that we give the Seidio Active Combo our First Class stamp of approval.
Want to get your hands on one? Here is the 411 on where and how to get your hands on this one of a kind case and holster.
The Surface Combo and ACTIVE combo (without Kickstand) retails for $49.95, and the ACTIVE Combo (with Kickstand) is $54.95.  Colorsinclude: Black, Glossed White, Garnet Red, Amethyst, and Royal Blue.
For more information about Seidio's ACTIVE and SURFACE cases for the
Samsung Galaxy S3, please visit  www.seidioonline.com
New to HipHopFirstClass? We bring you the latest Hip-Hop news–Free in your mailbox every morning. Click

here to subscribe

!