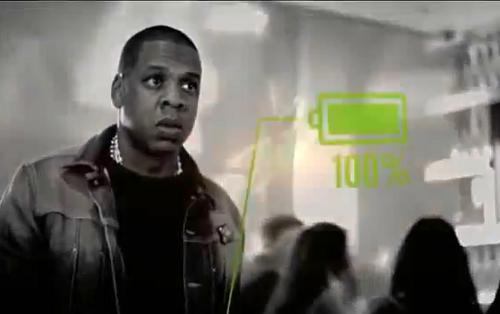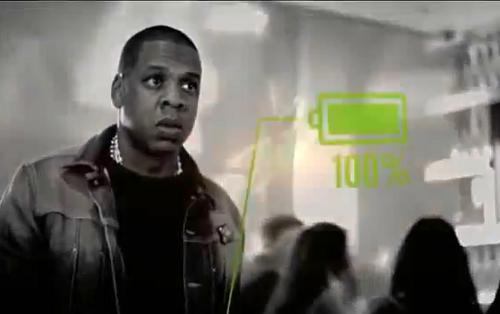 Editor's Note: HipHopFirstClass caters to the hip hop community; in every way possible. And we feel that it is our priority to bring you the hottest music, news, technology, and new products that are out available to you. We stay informed on anything and everything then weed out all the good from the bad so that we may give you the inside scoop on what's fresh in today's market that will keep you one step ahead of the crowd. Today is no exception as we are glad to introduce Powermat 24-Hour Power System along with their new commercial that features on of hip hops most famous icons.
Duracell Powermat's and Jay Z have big plans for the future as they unveiled the new commercial featuring Jay Z and the Duracell Powermat.
Now let's pretend for a second that we lived in a life where never needed to worry where you will get your smartphone's next quick charge. Now let's pretend you do it cable free and hassle free. Well guess what we don't have to pretend anymore as the Duracell Powermat fulfills your smartphones power needs!
Duracell Powermat is leading the charge toward a wirelessly powered world and, for the millions of smartphone users in NYC, the wireless power future is alive and growing!
The new Duracell Powermat 24-Hour Power System contains three products that together give you everything you need to enjoy your smartphone at home or on-the-go without worrying about the life of your battery. The system includes a Powermat for charging the iPhone or iPhone 4, the 24-Hour Power System includes a phone case (necessary for the phone on the Powermat) and a portable backup battery with both microUSB and Apple connectors. The system currently only supports the iPhone, but the company says it will add compatibility with "an array of other leading smartphones by this fall.
The wireless charging case perfectly fits your iPhone; available in white and black as part of the system, as well as a variety of other individual case colors online. The kit also includes a portable backup battery that carries one full charge for any iPhone or micro-USB powered device. Meaning you got juice for easy access and on the go, whenever where ever!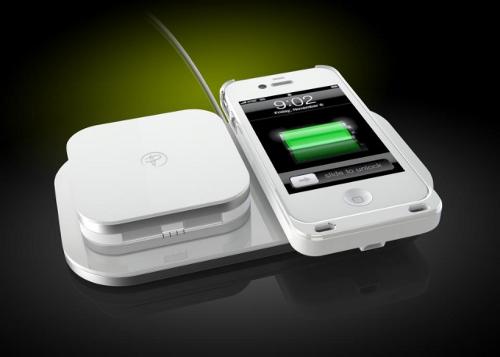 Now here is the kicker, the Duracell Powermat System is smart. It knows just the right amount of energy your phone needs and it stops sending power when your phone is fully charged, helping to eliminate energy waste. How is that for contributing to save the planet!?
If that wasn't impressive enough you'll be glad to know that the brand's Wireless Power Nation – an integrated plan of strategic lifestyle and retail partnerships – will bring a system of fast and convenient built-in wireless 'hot spots' or charging locations to several places and settings frequented by consumers throughout their day.
The whole concept of the idea is to enable the consumer to benefit from wireless charging in all areas and aspects of their lives. This includes daily activities like shopping, eating, traveling, etc. Point is that Power Nation we'll be right there with a public charging 'hot spot.' The brand is the first to create a wireless power network designed to offer the ability to charge wirelessly to the masses.

The Wireless Power Nation first kicked off in New York City. The Duracell Powermat 24-Hour Power System is available for $99 at major New York City retailers and online at www.DuracellPowermat.com, with full nationwide retail distribution following this fall. Additional Powermats and wireless cases in a variety of colors, can be purchased online.
Duracell was kind enough to contact us and send us a sample unit to review and let me tell you the Powermat far exceeded my expectations!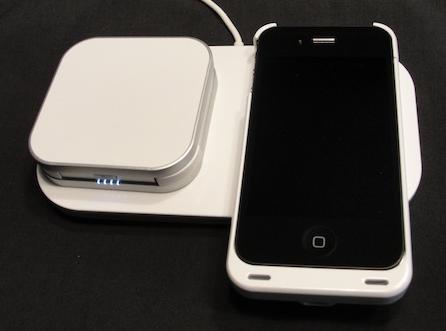 First of all the white color and design on the Powermat simply shouts out "First Class" no matter what side you look at it from. Plus the idea of having something that will allow me to simply set my phone on this pad without having to worry of having cords is simply priceless. Plus who hasn't already been through the "I forgot my charger and my phone is running low" syndrome. You know you have!
Moving on, the Powermat was easy to use and worked with a number of the electronic devices. iPhones Androids, you name it the Powermat handled it like a champ.  I also found that the mat itself did a great job at charging, the integrated magnets guides your phone right in the center where it will obtain maximum signal and charge.
In today's world everyone is using technology, so make sure you don't get left behind! The Powermat provides ease of overall use and more importantly ease of charging. You can bet my office looks even classier than before with the addition of the Powermat, plus anyone can use it to charge up their phone making it a well rounded charger! By the way did I mention that this is the same Duracell Powermat that they are currently using in Jay-Z's exclusive 40/40 club.
In addition Duracell Powermat officially launched their first-ever commercial spot, part of an integrated marketing campaign that encourages New Yorkers to 'Never Be Powerless.' The commercial, which features renowned music artist and entrepreneur JAY Z, promotes the new Duracell Powermat 24-Hour Power System.
The spot also serves as an introduction to Duracell Powermat's Wireless Power Nation — a series of out-of-home wireless charging "hot spots" in key venues throughout New York City, including JAY Z's exclusive 40/40 Club.
So what does Jay-Z have to say about the Powermat?
"I believe in the future of wireless energy and I believe that Duracell Powermat is the company to bring on the revolution. I'm partnering with Duracell Powermat because they're providing the solutions for the future."
Check out the commercial, believe me when I say this, the ending will get you!
*Editor's disclaimer: Hip Hop First Class' review of the Duracell Powermat is based on our personal review and experience. The fact we were given a "free" Duracell Powermat to review had no influence on what we personally thought about the Powermat or what was written in the review. We value our audience which is why we always give you our honest opinions on products and do so only after we have been able to test them out and judge them on those basis.