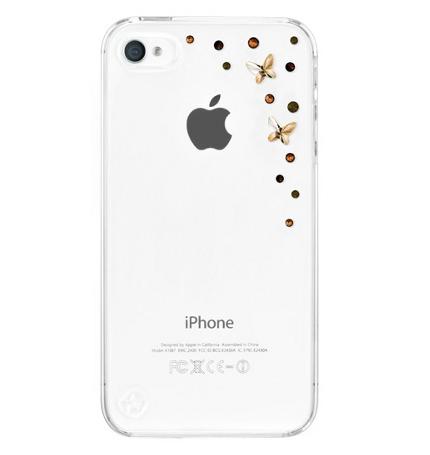 In today's world iPhones seem to lead the way among popular mobile devices, which has opened the door to an entire array of iPhone cases. Many people look for superb protection to aid in the long life of their iPhones, but most of the time they are left with a dull one-colored case that makes their iPhone's appearance boring.
If you have fashion on your mind and an iPhone to accessorize then The Bling My Thing cases for iPhone will be the answer to your problems. The Bling My Thing cases are the some of the classiest case we've been introduced to. The thing that makes them so unique from all the other cases in the market is the fact that they are encrusted with Swarovski crystals.
Now if you are at all familiar with Swarovski crystals then you know that they shine from a mile away! When you integrate different colors and designs with them then you are left with a stunning combination.
While the cases are manufactured, the crystals are individually placed by hand. Swarovski crystals aren't cheap, but they make for a unique finish. By now many of you may be thinking about lost crystals due to constant contact, well you need not worry. The Swarovski crystals are set into slightly receded areas, reducing the chance off them popping out from regular use.
Just to make sure that they withstood daily we used a used a review unit on the field with an iPhone for about 5 weeks and put it through daily use and I'm happy to report that all crystals stayed intact and in place.
Now keep in mind the Bling My Thing only provides subtle protection for your iPhone, but it did stay intact after several drops and bumps.
Also the Bling My Thing case is easy to put on or take off from your iPhone. The front of the case does rise slightly above the iPhone screen, so you can put it down on really smooth, flat tables without worrying about scratches or scrapes.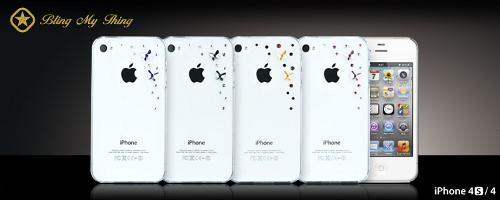 You'll be happy to learn that there are several colors and designs available. The major styles include Simple is Beautiful, SPLASH!, Elegance, GOD SAVE THE BLING!, and Prélude. Each style has different color options.
The cases follow the Japanese practice of Deko-Den, which is essentially decorating phones, and Bling My Thing has been working with Swarovski since 2005, with craftspeople trained by Ayano Kimura.
The idea of Deko-Den is to transform something common into something unique and glorious, like a fine piece of jewelry.
Bling My Thing doesn't does not only focus on artistic works that are printed straight on the case but rather they're making a few designs, in a few variations, and doing them very, very well. All in all I would say that the Bling My Thing iPhone cases are aimed for those who are looking for style and uniqueness. So if you want to make a statement, draw attention and show off then the Bling My Thing will handle your needs.
About Bling My Thing
The company was founded in 2005 in Berlin when demands for customized work came flooding in. Working exclusively with SWAROSKI ELEMENTS as a licensing partner of Swarovski AG, Bling My Thing has been perfecting and transforming the art of 'Deko-Den' (meaning 'decorated cellphone' in Japanese), a method of transforming cellphones into unique pieces of jewellery, very popular in Japan.
Many factors come into play in the creation of your luxurious Bling My Thing mobile case.  Every piece of SWAROVSKI ELEMENTS, is still individually selected to be used on your mobile case by a trained professionals and secured in place by hand, using custom made adhesive.  Bling My Thing's goals are to bring you the finest quality products with premium grade materials.
New to HipHopFirstClass? We bring you the latest Hip-Hop news–Free in your mailbox every morning. Click

here to subscribe

!