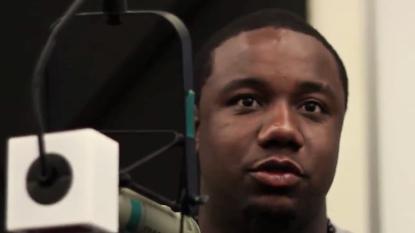 Iron Solomon going up against Murda Mook was a highly anticipated rap battle as both were set to take each other on round after round, however things quickly turned for one of the battle emcees as he began to dominate his competition.
Iron Solomon and Murda Mook had a date with destiny and made sure to hype this battle up to the point that it got the attention of major artist much like Diddy, Busta Rhymes, and Lloyd Banks. AS you may have guessed by now the place was jam packed side by side with fans who could not wait to see who the best would be that night.
The best battle rappers in the circuit made their way once again to the Ultimate Rap League's Summer Madness at Webster Hall in New York City. The event went down on August 19 and many knew that at the end of the day many would walk away disappointed yet others would take the glory.
URL's founder Smack White, who earned high opinion for his Smack DVD series, arranged Summer Madness 2: Return of the Legends.
Ruff Ryders' Murda Mook was set to take on Iron Solomon in what would be the finale of a high energetic event.
Though there was much anticipation and commotion the event finally brought forth their main event. Early on, Iron Solomon was shot for shot with Mook's charismatic delivery and persuasive punch lines. However, things turned bad at five minutes into the first round of battle and it became evident that Mook was just way too much for Iron Solomon's drawn-out analogies and overly-animated flow.
Mook, insisted that he is top five dead or alive in battle rap and with that attitude he went on to blast Iron's cultural background, question his battle resume and adrenalized technique, before cruising to a sure victory.
Mook showed of his quick thinking skills as he hooded himself and brought out a bag of Skittles, passing himself as the late Trayvon Martin, while making Solomon unintentionally pose as George Zimmerman, Martin's accused killer.
He went on to declare August 19 as the day that Iron, who's Jewish, became a man by stomping the bag of Skittles he laid on the floor and yelling, "Mazel tov!"
Which would mark the beginning of the end for Iron Solomon, the question is where does Iron go from here?
Just to add more excitement to the event Diddy announced that he would judge the T-Rex/Ayeverb battle and award the victor $ 10,000 in cash. Once the battle was done he proclaimed T-Rex to be the winner.