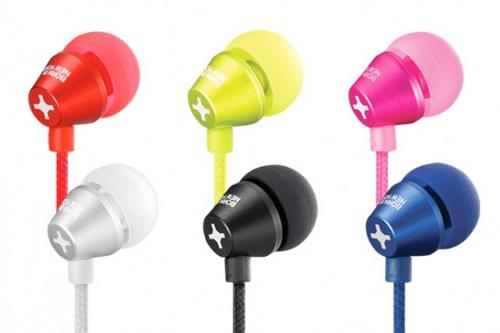 id America has long been the leader for innovative iPhone cases and are the creators of the popular Spark in-ear headphones. However, id America never settles even after finding success which is why they have produced another innovative audio accessory, the new Metropolitan aluminum in-ear headphones.
The Metropolitan in-ear headphones are unique in so many ways, for instance they are wrapped in precision built aluminum casing and for those who like to coordinate with their accessories and apparel, they are available in many bright colors, such as brilliant red, yellow green, rose pink, aluminum silver, jet black and navy blue.
Not only are Metropolitan in-ear headphones special because of their unique designs, the in-ear headphones are also comfortable to the ear and provide incredible audio with the optimal seal for better sound isolation.  The profile of the ear bud is very small when compared to other in-ear headphones in the market, this is a big plus because there is nothing worse than using a pair of in-ear headphones that are too bulky and uncomfortable.
Metropolitan's also come with three additional earbuds with a microfiber suede carrying pouch making the headphones portable and easy for adjustment. id America is based out of New York City and they remind you with a subtle hint as the clever tag line "Born in New York" is engraved on the actual earbuds.
Each ear bud is very light thanks to the aluminum casing that it uses instead of a more heavy metal or plastic material. The cord is of the fabric braided and for some reason more and more companies are using theses cords.
The sound from the Metropolitan headphones is very nice considering they are only $30. Both mids and highs are very nice sounding and crisp with no distortion and the bass is subtle yet effective.
If you are expecting important phone calls while listening to some of your favorite tracks, well don't worry id America has you covered as the Metropolitan also features an in-line microphone module which allows one-touch end/receive calls and lets users navigate through their media library with ease.
My only problem with the Metropolitan headphones is that the in line remote and mic feel to fragile and like they may break if you press on it too hard.
Of course by now you may be wondering how much you would have to invest in these ear phones, well relax because they will not put a dent in your wallet. The Metropolitan headphones chime in at a very affordable $30 and I guarantee you will find it very hard to explain how such a hi quality product can be yours for a very low price.
The Metropolitan earphones from id America costs $29.95.