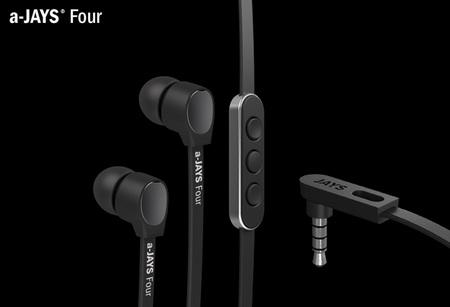 a-JAYS Four have recently hit the market and it seems that the creators may have stumbled across and genius idea that not only has function in mind, but also brings forth a new style in ear bud fashion.
It's no secret that the iPhone has been dominating the cell phone market in the past years and that every day more and more customers are drawn to the Apple brand; so it comes as no surprise that there would be a company who would release ear buds that are made specifically for the iPhone. But the thing that makes these ear buds unique is the actual design which until now was unheard of!
We've all had ear buds at one point or another and have fallen victim to the tangled cord syndrome, come on you know it's happened to you as well! No matter how neatly you loop the cords and store them away, when it's time to use them again they are always all tangled up. This has been one of my many frustrations, ok more like a pet peeve. But today that frustration is a thing of the past as the a-JAYS four has given me a reason to love ear buds once again.
JAYS of Sweden, and their new a-JAYS Four ear buds headphones have the answer to your tangled cord problems and frustrations. These are the first ear buds that I have come across that wont tangle, ever! I'm serious I tried every trick in the book and much to my amazement they just don't tangle up, unlike those other annoying ear buds. And to top it off these are some of the most classy ear bud designs that I have encountered.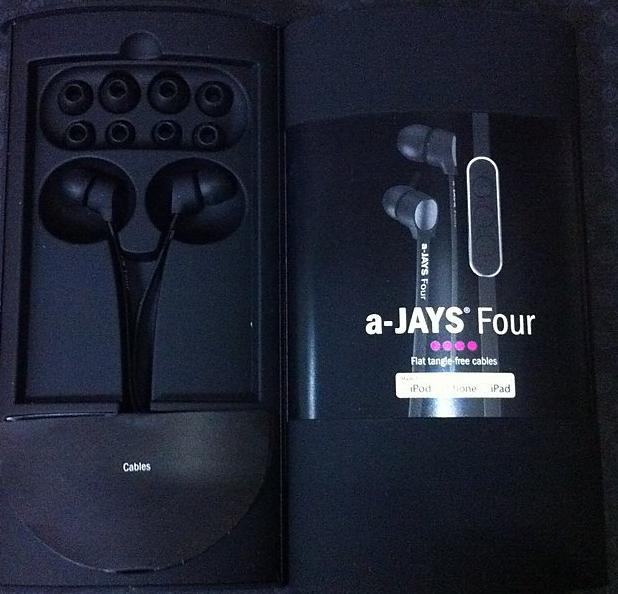 The a-JAYS Four features a flat 5mm wide cable design that make cord tangling non-existent. The color and flat cable make for a very unique look and feel. Of course not everyone is the same so they've included 5 different ear bud size forms. That may be plenty of ear buds, but that is not to say that JAYS wants you to deal with a mess from the ear buds so they've included a plastic matte case, so that you may be able to store them.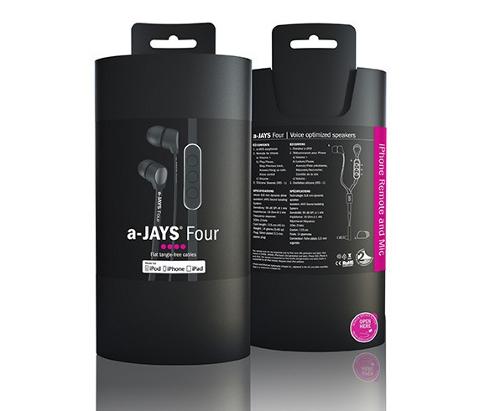 Now in case you still want more bang for your buck, well don't worry because not only are the a-JAYS Four made to look good they are also made to perform. The ear buds come with a remote! It is made up of two concave and one convex button. That way you kind of get a feel for which one does what and by simple touch. You can play, pause music and videos, in addition to answering/hang up, skip songs and controlling voice activated features. All these functions are ready at the tip of your fingers.
And if you are on the go and really need to answer a phone call, well you will be glad to know that the remote has a microphone housed in the remote control unit. And don't worry about environment noise drowning out you call as JAYS boasts, the mic utilizes the "latest available microphone technology." The silicone microphone, within the remote, removes GSM/TDMA burst noise suppression.
I had to make sure the a-JAYS Four were up to par with our standards and let me tell you after a few calls while I was inside a very busy store, the clarity and volume in my voice was remarkable. The person on the other end could hear me perfectly. And of course when it came to the music, well let's say that the sound quality from the a-JAYS Four left a smile in my face!
In my humble opinion, the a-JAYS Four enhances just about every aspect of the songs in my iPhone. The vocals are bright, instruments and sound effects are clear and on point. The bass is perfect not too much but not too little, just enough to get you the desired effect. By the way, I also record and produce music so sound quality is of the utmost importance to me as this is the only way you can really appreciate the art form of music.
All in all this is the verdict! The design is unique and first of its kind. The performance could go toe-to-toe with a much more expensive over-ear headphones. The prices is fair and believe me when I say this, you are going to get more than what you pay for. And of course how much time and frustration are you going to save by not having to untangle the cords every time. And well to be honest the look of these ear buds are just too classy, but that's never a bad thing! Guys will appreciate them and the ladies will love them.
The a-JAYS Four ear buds come in white and black for iPhone, iPad and iPod with a retail price of $79.99 direct from JAYS or $65-$69.99 at Amazon. For Android users, try out the a-JAYS One+ for $20 less. They only include a single button remote, but a free app from Google Play helps the user control their device using the button.
New to HipHopFirstClass? We bring you the latest Hip-Hop news–Free in your mailbox every morning. Click here to subscribe !
*Editor's disclaimer: Hip Hop First Class' review of the a-JAYS Four is based on our personal review and experience. The fact we were provided with a "free" set of a-JAYS Four to review had no influence on what we personally thought about the a-JAYS Four or what was written in the review. We value our audience which is why we always give you our honest opinions on products and do so only after we have been able to test them out and judge them on those basis.