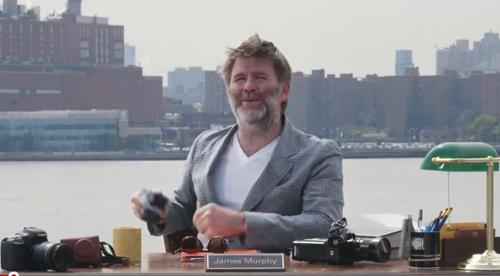 Canon and James Murphy has recently partnered up for "Project Imaginat10n," and they are looking for your photos!
That's right this creative exercise will be all about the people, ten consumer photos will be picked to inspire a short film that will be directed under the mentorship of Ron Howard.  Jamie Foxx, Eva Longoria, Biz Stone and Georgina Chapman are also part of this show, so you know it's going to be something very special.
Now many of you may be wondering, what kind of photos are they looking for? Well the answer is actually quite simple, they want any and every photo you could possibly imagine. It does not have to be a professional photo, as a matter of fact the more abstract the better. So go out have fun and take photos at every possible opportunity.
Consumers can submit photos until September 24th at imagination.usa.canon.com, and Canon and Ron Howard will narrow down the photos – James and each director will then choose 10 photos to inspire their films.
James put together a video in Brooklyn telling the story of his photos and what they mean to him – perhaps inspiring consumers to submit and be part of the process.
"'Project Imaginat10n' is a genius and organic partnership – linking together people I personally admire and the limitless untapped creativity in everyone," said Eva Longoria, film and TV actress.  "I'm extremely passionate about this opportunity and looking forward to stepping behind the camera."
"When I saw what Ron Howard was doing last year with Canon, I knew the project had integrity," said Jamie Foxx, Academy Award® winner.  "Ron is a film icon and after he made a cameo in one of my music videos, it was only appropriate that we team up a second time for something truly outstanding."
Check out all the info from James Murphy himself on the video below:
"Project Imaginat10n" Rules
The contest entry period runs from Tuesday, August 14 – Monday, September 24, 2012.  To enter, visit imagination.usa.canon.com and follow the on-screen entry instructions.  The "Project Imaginat10n" contest will feature ten storytelling themes in which consumers can submit their photos:  Setting, Time, Character, Mood, Backstory, Relationship, Goal, Obstacle, The Unknown, and a surprise 10th theme, which will be revealed at a later date. There will be a public vote on the finalists from Tuesday, September 11 – Monday, October 1.  With input from the online community, Canon and Ron Howard, the entries will be narrowed down to 91 winners and the five celebrity directors will select ten photos, one per theme, to inspire their films.    The films will then be showcased at a special Canon "Project Imaginat10n" Film Festival in 2013.