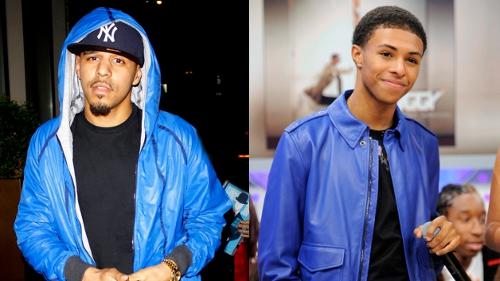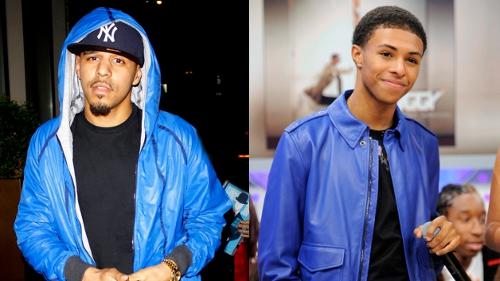 Hip Hop Beef re-ignites J.Cole vs Diggy Simmons
Hip Hop Beef is never really picky when it comes to its victims, such is the case with J. Cole and Diggy Simmons recent back and forth jabs. Except Diggy seems to have fired back with  a complete track after J. Cole tried testing the waters so to speak.
About half a year ago Cole and Diggy first had a lightweight beef against each other that was quickly squashed, but it seems that J. Cole was not content on leaving he matter alone as he re ignited the fight when Kendrick Lamar invited him onstage in Charlotte, N.C. J Cole then spit a freestyle that had a jab aimed at Diggy Simmons: "Picture me hating on a young n—a with talent/Album flopped, but it's cool, he caked out on his allowance."
It didn't take long for the young hip hop singer to catch wind of the insult and fire back with his own arsenal. Now let me be honest, Diggy is young and he may not be a lyrical genius but the kid stepped up to the plate and swung away!
Diggy released the "Fall Down" diss track on Power 105's The Breakfast Club morning show this past Monday morning.
The youngster comes in with an attitude and lets J have it from the get go!
"I guess I rattled you, snaggletooth/You know better/Thought J stood for Jermaine, not Jet Setter / You seen me and shook my hand, coppin' pleas in person / Now you act less than a man, mentioning me in verses / You used to have dreams of my big sister kissing ya / Now it's nightmares of her little brother dissing ya," Diggy raps.
Hip Hop Beef: Diggy Simmons 'Fall Down" full audio track below:
I got to give credit to Diggy as he puts the icing on the cake with the following bar, "Maybe you should sign with me instead of Mr. Carter, how you mad at me I got a relationship with my father, huh?" That may be considered a bit below the belt, but hey all is fair in war!Besides it was J. Cole who broke of f the truce.
But it doesn't end there as now even Tyrese is getting involved in the situation. He recently called out Cole in a tweet!
"S–t ain't gonna fly no more … J Cole … Diggy is family … S–t ain't flyin … Ps .. I'm grown," Tyrese wrote.
Now if you are not familiar at all with how this hip hop beef first began, then let me bring you a bit of info on the subject.
J. Cole first released "Grew Up Fast," in which he took some shots at Diggy:
"You n—-s is not Russell/You more Diggy, me, I'm more Biggie/No diss to the young boy, I'm just rapping, get bored quickly." The track would eventually also bring forth the revelation that Cole and Diggy's sister, Vanessa Simmons, dated while in school. Cole mentions this bar on the track: "What up Vanessa, I loved you that one semester."
Of coarse Diggy would come back at Cole with a quick freestyle just to let the rapper know he was listening.
"What You Say to Me": "The other day I was listening to 'Purple Rain,' couldn't believe all of the things that I heard em say," he continues.
"Who dat, who dat, you know who it is, heard you lying on my sis, telling people that you hit/When your album drops I'ma hit you with your bricks, so I'ma bomb first on you since you wanna riff… little n—a named Cole think he live like me, jetsetter trendsetter, yeah you not like me."
No word or response from J. Cole, but we have a feeling that he will be hitting another diss-track aimed at Diggy real soon and he may include a few shots for Tyrese as well! So stay tuned as we bring you the latest on both J. Cole and Diggy.
Photo Credit:bet.com