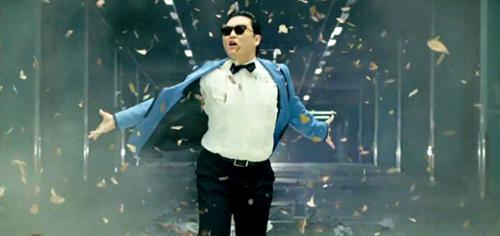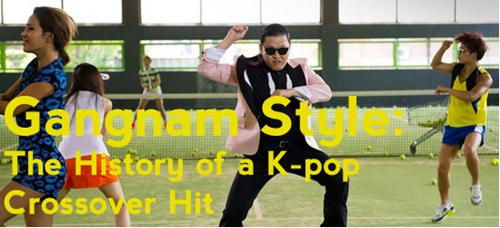 We know all of our K-Pop fans have been frantically waiting to read the latest on what has become the "Gangnam Style" craze! What began as an exciting song coupled with an out of the ordinary dance has now grown to be the latest "in thing". In a mission to bring you the facts on how this song has gained worldwide attention, we have teamed up with K-Pop experts and came up with the following guide and facts to help keep you up to date with "Gangnam Style".
The Korean pop viral video "Gangnam Style" has reached over 230 million hits on YouTube in just a couple months – becoming one of the most viral videos ever made. It's an incredible feat for anyone, much less a relatively not well-known rapper from South Korea.
These days it's all eyes on PSY, his fun dance moves and those crazy outfits.  His new manager Scooter Braun, who discovered the Biebs, has had him on "Ellen" fulfilling Britney Spears' tweeted wish to teach her the horse dance. Then, the morning show circuit, including the Today Show, SNL and a surprise drop-in at The Circle Nightclub, a popular Midtown NYC hotspot where companies like DramaFever have held launch parties that wrap around the block.
Speaking of DramaFever, their K-pop experts helped us put together a primer of sorts, for anyone who wants more "Gangnam Style" goodness.
Here are a couple points:
You may not know this but you've seen it. Psy's "Gangnam Style" phenomenon is part of much bigger trend called "Hallyu" (pronounced "holly-oo"), which means Korean Wave. Hallyu's been spreading around the world. We'll be filling you in on that trend in the coming months.
But first, you can get all need to know about what led to all those views and tons of takes on "Gangnam Style" in two minutes flat, if you check out this  "Gangnam Style- The complete history of a k-pop crossover hit", courtesy of Dramafever.com.
A couple gems you likely haven't seen in the mainstream US coverage of Gangnam Style is a pro flashmob performance by Psy and his crew, direct from the center of the Gangnam District. In that one, he trades his tux for some on-trend white Hammer pants.
Then, jump to the end for a hysterical clip of Psy in red hotpants and glossy knee-high Wonder Woman boots, dancing out the routines to Lady Gaga's "Poker Face" and Beyonce's "Single Ladies." Hot dancers included. I know, you're welcome.
The song's signature "oppa Gangnam style" line satirically refers to Gangnam, a wealthy and stylish area of Seoul. PSY pokes fun at the girls and guys are unabashedly about conspicuous consumption. Like we don't have that here (cough, Kardashians).
In case you're wondering what they're talking about, "oppa" means "big brother," a term girls refer to boyfriends and older males. Gangnam is a district, like Beverly Hills Rodeo Drive/Park Avenue. Tons of clubs and expensive coffee shops. Just like LA/NY.
To add another accolade to Psy's résumé the Guinness World Records, just announced that Korean Pop Superstar 'PSY' has broken the record for Most Liked Video on YouTube. What is more impressive is the fact that the video has only been up on YouTube since July 15th. The video has been 'liked' in excess of 2,141,758 times. That leaves the competition in the dust; LMFAO's 'Party Rock Anthem' has accumulated 1,574,963 likes, Justin's Bieber's 'Baby' (1,327,147 likes) and British pop star Adele's 'Rolling in the deep' (1,245,641 likes).
If you really want to understand "Gangnam Style" – or just enjoy some eye candy and that Psy-like twist and humor, you have to check out this compilation of K-dramas that rock Gangnam Style.
And for more of the who's-who of K-pop, check out the Korean hit music TV show "INKIGAYO" a show featuring live performances of the chart-topping videos of each week. Psy appears on the July 15 and August 19 episodes. All the stuff is free on DramaFever.com. Once you're addicted, you can also stream DramaFever on Android, Google TV and Roku. Check back here about news about a brand new iPhone app when that launches and more on Hallyu and k-pop.
In Case you still don't know the dance then get You Gangnam Style on!

Photo Credit: DramaFever.com