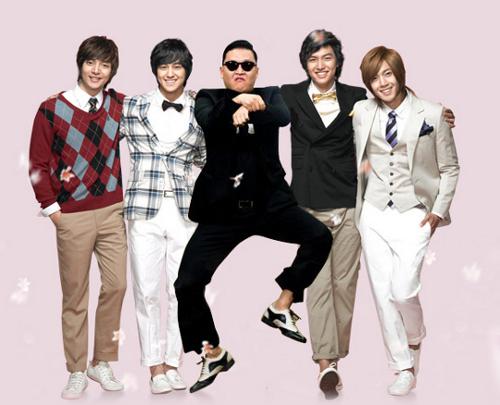 Gangnam Style is once again making headlines, this time around we are bringing you a first-hand look at the "boys over Flowers Gangnam Style video". Provided by DramaFever.com
Many of you may still be lost on the whole message that Psy has been trying to present with his song title Gangnam Style. Well to help clear the air we are bringing you a visual aid with this new video.
You can check out the video below or you can always go over to DramaFever and check it out there.
http://www.dramafever.com/lp/boysoverflowers_gangnamstyle/
In the video you will be able to see real takes that are very Gangnam Style. Once you know the video, you can't believe how much this drama hits what Psy was talking about.
Boys Over Flowers is a South Korean television drama series. It is based on Japanese shōjo manga series, Boys Over Flowers.
ShinHwa School is a school for rich people, where Goo Jun Pyo, the heir of the global corporation ShinHwa Group, Yoon Ji Hoo, Soh Yi Jung, and Song Woo Bin attend school. They form a gang called F4. Goo Jun Pyo, the leader of F4, is the main ruffian. Throughout the show you can see the rich lavish style that most of these characters live. Which is what Psy is talking about in his Gangnam Style song and video.
So enjoy the video and let us know what you think.