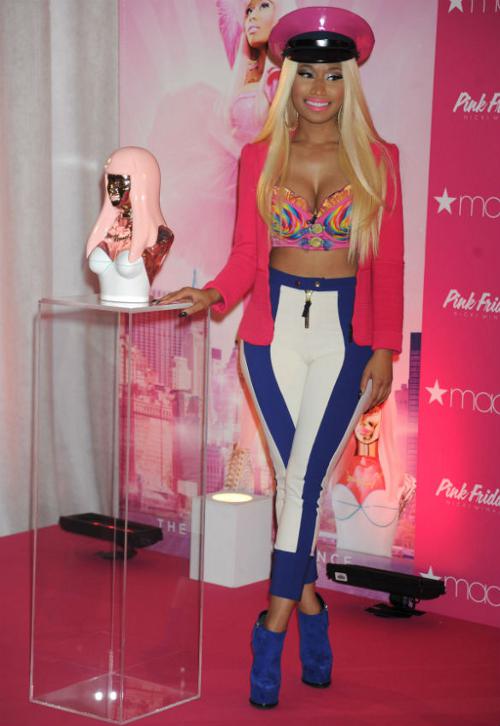 Nicki Minaj has been a busy lady as of lately! Yet she still manages to pursue new endeavors every chance she gets. Such is the case, as the hip hop artist has now released her first new fragrance, Pink Friday.
Nicki Minaj was on hand to see the launch her first fragrance, Pink Friday, at Macy*s Herald Square NYC yesterday. Not one to disappoint fans, Nicki came to the event in style! Nicki had everyone talking as she stepped onto the pink carpet wearing a hot pink Armani blazer, Marni blue and white high-wasted skinny pants, Giuseppe Zanotti blue suede wedge booties, a vintage rainbow swirled bra, pink police officer hat and striking blonde wig by Terrance Davidson.
For a normal person this may have been a bit too dramatic, but Nicki is anything but ordinary!
The event brought forth hundreds of screaming fans to help her celebrate the day! Just to show some appreciation to the people that came out to celebrate the even Nicki and Macy's Herald Square provided the first 300 fans to purchase Macy's Pink Friday Exclusive Gift Set Bundle the opportunity to meet Nicki and get an autographed limited-edition Pink Friday commemorative ad. You can bet several fans were left with a smile on their face as they walked away with a  one of a kind experience.
Scott Beattie, Chairman, President and CEO of Elizabeth Arden, Inc. and Jeff Gennette, Chief Merchandising Officer of Macy*s, Inc. kicked off the fan meet and greet with a speech to welcome the crowd and introduce Nicki Minaj. As Gennette explained, "Today we've gone from a mundane Monday to a pink Friday, welcoming one of the world's most fascinating and vibrant artists as she launches her first-ever fragrance, Pink Friday."
Now the design of the actual bottle is quite unmistakable as they have made it to appear as a mini Nicki Minaj. The bottle dawns Nicki's signature pink hair along with a gold chain around its neck with the name 'Nicki Minaj'. While this design may unique and quite enticing for younger ladies, I doubt that and older lady would want to have the bottle sitting on her dresser as it just seems a bit too toyish. Then again people are coming to a new era and much has changed since the time of Elizabeth Taylor.
Perhaps this new fragrance will give her something else to hold over Mariah Carey's head in this weeks show of American Idol. Both seem to have settled their beef with on another and have called a truce for now, but sources still say that they are quite jealous of each others success and both look for any opportunity to gain momentum over one another.