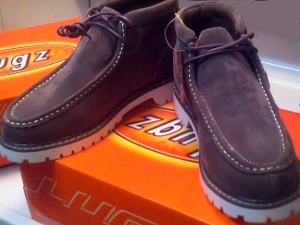 Editor's Note: HipHopFirstClass caters to the hip hop community; in every way possible. We bring you up to date music and news, but more than anything we also keep you informed on all the latest gear and street wear to keep your Steez level one notch above the competition. Today is no exception as we bring to you some fresh new footwear from Lugz.

Lugz has long been a part of the hip hop and urban scene, but with time there is change. Many brands have come and gone in the urban scene since the early 90's, but Lugz has been able to adapt as they keep bringing the freshest boots for your fashion needs. Known for their ruggedness and durability, Lugz has now brought simplicity, mixed it with style and added a bit of attitude to come up with their newest line of boots. May I introduce the Swagger from Lugz.
Now as you  may know by now here at HipHopFirstClass we have long been a part of the urban scene and most of our editors are either interviewing other artists or are also a part of the music scene; whether it be in the studio or outside the studio, so you better believe we like to keep style in the equation.
I for one like to mix a bit of urban and hip-hop with plenty of style and Lugz has given me the answer to bring both worlds together, in the form of the Swagger boot. I can use the Swagger boots in the office around a professional classy environment and keep them on as I make my way into the studio to record my latest track.
And just to make them a bit more stylish Lugz offers the Swagger boots in some real classy colors including, Black, Brown, Charcoal/White, Black/White, Wheat/White/Gum. They are available for $64.99 which is actually a real good price considering the style and quality that you will be getting.
I personally like the Charcoal/White color as it makes the boots look more unique, plus you can pretty much guarantee that no one else will be wearing the same color of shoes much less the same boot. You could say I like my style to be a bit on the unique side. Naturally I'm a trend setter not follower!
The Swagger boot is actually quite comfortable as the sole gives you added cushion, not to mention that they are extremely light. I did not even have to lace up the shoe lace as the boots fit perfect, not too tight or too loose, just right. The sole is also slip resistant so you don't have to worry about going from carpet to tile and risking the chance of face planting on an accidental slip. Now I did spill some water on the boots and I must say that it cleaned off rather nicely, as long as you don't let the liquid set I'd say you're on the safe side.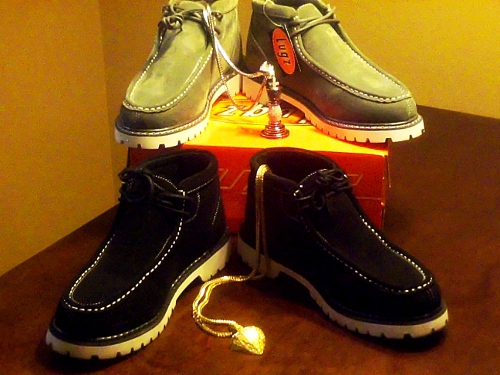 The one thing that I would say is that I had to be very careful when I walked outside, because I did not want to get these boots dirty. Of course this was completely by choice as I know shoes are meant to be dirty, but these boots look so good I just could not bear to get them dirty on the first week. The only real problem I had with these boots was deciding what color of boot I wanted to wear for a given day followed by which chain would accompany the outfit. Other than that Lugz was able to keep my swag on point with their new boots.  So go ahead and spring for a pair, you'll be thanking me later when people start noticing that your walk is full of Swag, literally!
Check out some quick facts on the Swagger boots.
Lugz Swagger:
The Swagger SR men's boot is an update on a classic, taking you from work to play while keeping you comfortable all day.
Lugz Swagger DETAILS:
Durabrush upper
Moc toe design
Cotton drill lining
Cushioned insole
ASTM-F1677 Mark II tested slip resistant sole
And in case you've been living in a cave for the past 29 years and you are not familiar with the brand Lugz, then fear not as I have the 411 (info) for you!
Lugz the brand Built for the Street has always been an innovator and leader in urban footwear, Lugz first made a name for itself in October of 1993, bringing its first line of boots to market. Soon Lugz was endorsed by key players from the world of hip hop and has continued to do so through out the years by creating trendsetting styles beyond boots, adding casual shoes and athletic to the mix. In the fall of 2008 Lugz shot on to the Mixed Martial Arts scene signing its first two MMA fighters, Lyoto Machida and Houston Alexander as endorsers. Machida captured the title of UFC Light Heavyweight Champion as he represented Lugz. Shortly after, Lugz signed Quinton "Rampage" Jackson. In 2010 Cain Velasquez became the newest endorser of Lugz; immediately after signing, Cain fought to become UFC World Heavyweight Champion. In 2011, Lugz continued to grow its Team.
Check out one of the videos that Lugz has for the Swagger Boots! I swear this is what it looks like every time we step into the studio!
Disclosure: We received no monetary compensation for this review. I did receive a pair of Lugz for review purposes. All thoughts and opinions are mine.
New to HipHopFirstClass? We bring you the latest Hip-Hop news–Free in your mailbox every morning. Click here to subscribe !