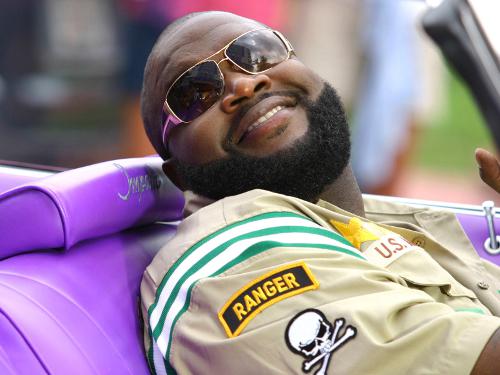 Rick Ross seems to be hitting speed bumps every way he goes starting from his health issues and now extending all the way to his legal problems. The Bawse has been in the midst of controversy as he is now being served with a lawsuit, due to the fact that he cut his live show short after only 15-minutes. Now the original contract called for the Rick Ross to actually perform for an hour and believe me when I say this, he was getting very well compensated for that one hour.
According to AllHipHop, the "Bawse" Rick Rozay is now involved in a $226,000 lawsuit over a less-than-satisfactory performance. SM Global Union agreed to pay Ross $90,000 for an hour long set, but I guess Ross was not in the mod to pump the crowd up and give them the show that they deserved and rightfully paid for so the rapper walked off stage after only 15-minutes.
Rick Ross isn't the only artist who's name appears in the lawsuit. SM Global Union is also suing tour-mates Meek Mill and Waka Flocka Flames for breach of contract after both failed to promote the event on Facebook and Twitter as contractually stipulated. I mean seriously come on guys how hard is it to promote your own show on your personal social media pages? And to top it off you are getting paid to do it! There are many other artists out there who do it for free!
Sadly this is not the first time the Rick Ross has been sued for the not meeting the expectation of his contracts for his live show and the worst thing about it is that this will probably not be the last time either. It truly is sad to see that an art has become a means of compensation for so called rappers who really have no talent and blow a once in a lifetime opportunity every chance they get! Bring back the real emcee's! PLEASE!
$90,000 and you still cant perform for 60 minutes? Guess you might as well go back to being a security guard!