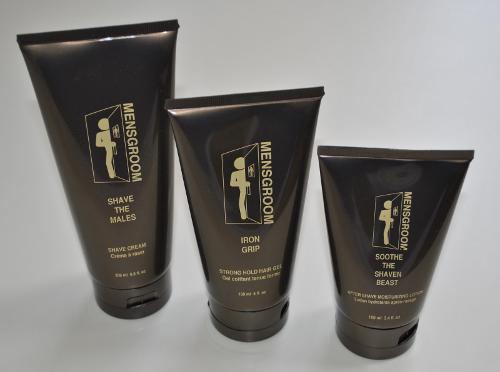 Men have long been accustomed to going through the daily routine of grooming themselves to prepare for their day ahead of them. Whether it be a day at the office or a date with that curvaceous women who makes every man's neck break as she passes by. Now I for one have gone through several hair gel's and even more shaving creams and to be quite honest some of them work, but none have ever exceeded my expectations. It was not until recently that I had the opportunity to review a few products from Mensgroom that I was actually able to appreciate my morning shave and actually keep my hair styled the way it was meant to be styled.
Mensgroom – Iron Grip
This hair gel is unlike any other in the market in the sense that it is made with a specialized polymer, Barley Protein, Pro- Vitamin B 5 and Eucalyptus Extract. So let's say you feel like a Rockstar in the morning but soon after you are going for the Preppy look. Well all you have to do is restyle your hair as your mood changes! Plus it won't flake or leave a residue. One other thing that actually caught my attention right off the bat was the fact that this hair gel had a rather pleasing aroma. It was a rich aroma that appeals to the women but is made for a man. Here are some extra highlight that should have you appreciating this hair gel a bit more.
Freestyle Polymer which provides long-lasting control without stickiness. Lasts all day and night. Can style again in the morning/overnight. Barley Protein which provides a protective film to repair hair and restore manageability. Eucalyptus Extract and Vitamin B5 Improve overall hair health, luster and appearance. now the best part about this gel is that it is reasonably priced at $5.99 for a 150 ml, 5 fl. oz. bottle
Now of course the lady's love a smooth face so Mensgroom made sure to have you covered in that area as well.
Mensgroom – Shave the Males – Shave Cream
If you have sensitive skin and enjoy a smooth face then Shave the Males shave cream is made just fro you. This alcohol-free, cooling, soothing formula contains a specialized barrier forming gel, Barley Protein, and Vitamin E. Eliminates skin irritation from shaving. Your skin will feel supple and moisturized.. Paraben Free. It will also aid your skin by strengthening its natural barrier function. A premium grade, non-greasy gel structure that mimics the skin providing a protective layer. It includes Barley Protein, providing a smoothing film to help minimize roughness and chapping. Effective as an anti-irritant. Vitamins E and F that will supply skin with essential elements and essential fatty acids. Vitamin E is an anti-oxidant that helps repair the damage caused by environmental stress, and Vitamin F is an essential fatty acid that moisturizes.
After actually using both products for two weeks I came to the conclusion that the guys and gals at Mensgroom took their time to make quality products fro everyday people to fit any need! My hair looks great and actually feels much healthier. Not to mention the fact that I shave on a daily basis and my skin has never felt this soft.
In my honest opinion I would say that Mensgroom is actually one of the best products out in the market today.
Check out all their line of products at mens-groom.com
You'll crack up at all the extra info about men that they've included in their website.