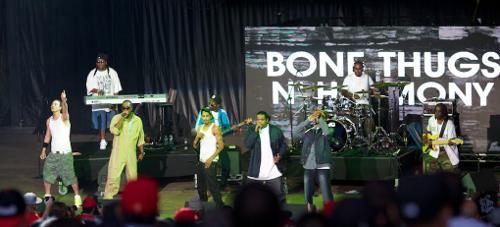 What better way to start the new-year than by giving you a shot at $1000 worth of bling! That's right Bone Thugs-N-Harmony has teamed up with HipHopBling.com and TLK Fusion to bring you a once in a lifetime opportunity.
HipHopBling.com and Grammy Award winning group Bone Thugs-N-Harmony will conduct a nationwide rap contest online. Check out the quick video below and make sure you check out the rest of the post as it will have some extra info on how to be a part of the contest.
Do YOU think you have what it takes? If so step up to the [plate and take the challenge as Bone Thugs-N-Harmony calls out all rappers to upload their most creative rap video online at HipHopBling.com for a chance to win a $1000 shopping spree to HipHopBling.com.
Contestant rap videos must be under two minutes and the content MUST relate to HipHopBling.com for your chance to win a $1000 shopping spree to get high quality hip hop jewelry at low prices. You can go straight to HipHopBling's website and download the required beat for the contest.
You better believe there will be some tough competition trying to get that first place spot and all the extra exposure. Now is not the time to be scared, so make sure you bring your A-game to this one.
The contest ends at midnight on January 31, 2013 and the winner will be announced on or around Valentine's Day, February 14, 2013 via twitter: @hiphopbling.
Catering to hip hop artists such as MANN, Soulja Boy, Too$hort, IYAZ, Colby O'Donis, and more – HipHopBling.com is the place to go for the newest and highest quality Hip Hop jewelry. Similar to Steve Lobel's WEWORKIN showcases, HipHopBling.com is giving young rappers the opportunity to share their talent with the world, and get in front of superstars Bone Thugs-N-Harmony!
For more information and to purchase jewelry please visit HipHopBling.com and follow @hiphopbling to find out who Bone Thugs-N-Harmony swags out.
About HipHopBling.com: HipHopBling.com provides inexpensive hip hop jewelry that looks like a million bucks but may cost only $20! As an added bonus, you don't have to leave your house to buy, with one click, you can purchase anything you want for a fraction of the cost and have it delivered to the comforts of your home.
 About TLK Fusion: TLK Fusion is one of the leading Hollywood marketing firms in Los Angeles. TLK Fusion's innovative campaigns, strong celebrity relationships and worldwide distribution connections can take you and your brand to the next level. In today's society, celebrities are walking brands. With an A list roster of celebrity relationships, TLK Fusion is able to leverage their network to gain maximum exposure for their clients. Through these top-tier, powerful alignments, TLK Fusion can effectively enhance the public's perception of your brand. TLK Fusion's out-of-the-box thinking and 360 degree service mix has proven successful time and time again.