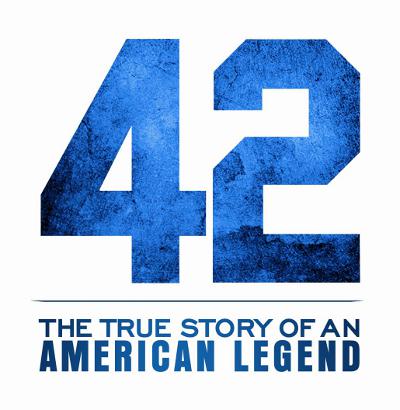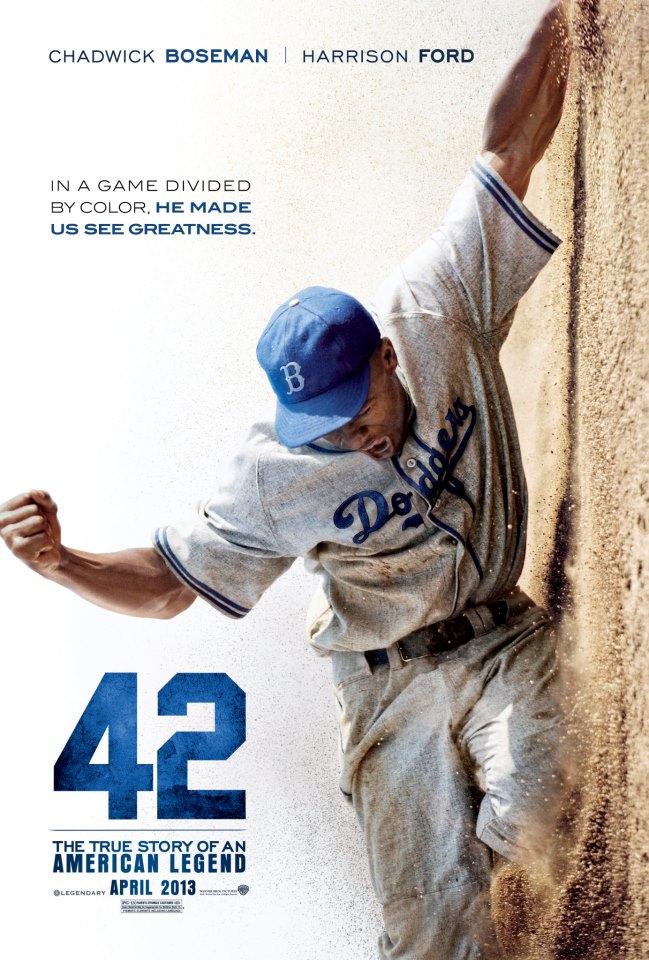 HipHopFirstClass love's to keep their fans entertained and in the loop with all the greatest music, artists and movie's that make for a one of a kind time. Today is no different as we have teamed up with Warner Bros 42 to give you a chance at  winning  1 of 2 prize packages which will include exclusive promotional items and movie passes.
To enter answer the following thematic question: Finish this line from the 42 trailer, "I want a player who has the guts to…"  
Take a peek at the 42 trailer below for the answer then leave the answer on our comment section, make sure you use your real and correct email address as we will be using it to contact you if you have won.
* Giveaway will end on April 12, 2013 CST.
* Winners will be selected using a random number generator. You'll be contacted by email, so make sure to use a real email address.
* If the winner does not claim the prize within 24 hours a new winner will be randomly drawn.
* Winners will receive one of two prize packages (1 Grand Prize winner, 1Runner-Up winner)
1 Grand Prize including:
1 – Exclusive 42 "The Game" T-shirt
1 – Exclusive 42 "American Legend" T-shirt
1 – Exclusive 42 "Brooklyn" T-shirt
1 – 42 Baseball Cap
1 – 42 Baseball
1 – 42 Rally Towels
1 – 42 Water Bottles
1 – 42 Seat Cushions
1 – 42 All Purpose Thermal Cooler   1 (Admit Two) –  42 Hollywood Movie Money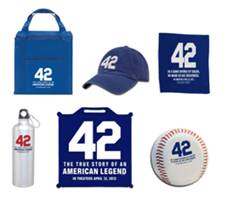 1 Runner-up prize including:
1 – 42 Baseball
1 – 42 Rally Towels
1 – 42 Water Bottles
1 – 42 Seat Cushions
1 – 42 All Purpose Thermal Cooler
1 (Admit Two) –  42 Hollywood Movie Money
Hollywood Movie Money is a free admission voucher to see a predetermined film (42) redeemable nationwide starting 04/13/13 through Thurs., 05/09/13 in any theater excluding AMC Theaters.
Warner Bros. Pictures and Legendary Pictures present a Legendary Pictures Production, "42." Slated for release April 12, 2013, the film will open in time to commemorate the 66th anniversary of Jackie Robinson Day—April 15, the date of his first game as a Brooklyn Dodger—and on the heels of the opening of the 2013 Major League Baseball season
Hero is a word we hear often in sports, but heroism is not always about achievements on the field of play. "42" tells the story of two men—the great Jackie Robinson and legendary Brooklyn Dodgers GM Branch Rickey—whose brave stand against prejudice forever changed the world by changing the game of baseball. In 1946, Branch Rickey (Harrison Ford) put himself at the forefront of history when he signed Jackie Robinson (Chadwick Boseman) to the team, breaking Major League Baseball's infamous color line. But the deal also put both Robinson and Rickey in the firing line of the public, the press and even other players. Facing unabashed racism from every side, Robinson was forced to demonstrate tremendous courage and restraint by not reacting in kind, knowing that any incident could destroy his and Rickey's hopes. Instead, Number 42 let his talent on the field do the talking—ultimately winning over fans and his teammates, silencing his critics, and paving the way for others to follow.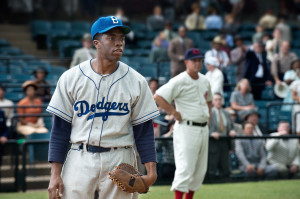 This is one movie that is sure to be an Oscar nominee this year, so make sure to enter the giveaway for your shot at some exclusive gear and tickets.
Good luck to everyone!!!
Photo Credit: Warner Bros.