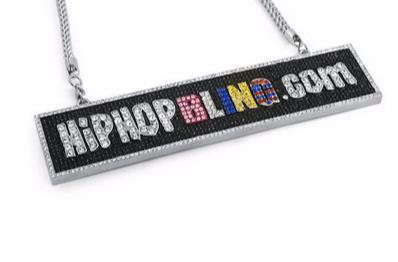 Editor's Note: HipHopFirstClass caters to the hip hop community; in every way possible. And we feel that it is our priority to bring you the hottest music, news, technology, and new products that are out available to you. We stay informed on anything and everything, then weed out all the good from the bad so that we may give you the inside scoop on what's fresh in today's market that will keep you one step ahead of the crowd. Today is no exception as the call for Hip Hop Bling is answered at an affordable price. 
HipHopBling has heard the voice of the people as they have asked for top notch jewelery at an affordable price. The company has now turned into one of the elite providers for hip hop jewelery.
Now we all know how much gold and diamonds are going for in the market at today's rate, but the good thing is that with HipHopBling you don't have to go platinum with music in order to get your hands on some ice that will not only turn heads but also give your wardrobe the next step in fashion and accessories.
HipHopBling offers custom G Shock Watches, Joe Rodeo Diamond Watches, black jewelry, iced out chains, disco ball bracelets, watches, grillz, rings, Official ICP Jewelry, bling bling earrings & More! They are also the only site on the internet that uses solid metal and brass cores on all of their jewelry, giving your piece the look but most importantly the feel of fine jewelry! With this company your getting high quality diamond simulates that have a high sparkle just like the real diamonds set in a clean, crisp manner.
If your looking to buy a higher quality piece just shop their VIP and premium jewelry collection made from real diamonds. HipHopBling keeps you shinning for less, even with real diamonds by using smaller diamonds in your piece and .925 Sterling Silver and 316L Stainless Steel.
Now first of all let me say that I am very meticulous when it comes to reviewing a product and one thing that really caught my eye was the fact that the jewelery was packaged professionally to prevent any damage to the jewelery! Not many people may take the packaging into consideration, however as we do receive several products for review, we have had a few that get to us broken due to poor packaging.
In the review package we received several items to check out, but the one that caught my eye was one of the most unique iced out chain out in the market today, the Custom Mountain Iced Out Canary Black Diamond 4 Row Chain.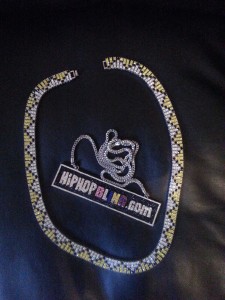 A fully blinged out 4 row chain with canary, black, and clear faux diamonds in a unique pattern for a custom look. This chain has over 750 high grade diamond simulants completely covering the chain. Each 4 row chain takes over 5 hours to make, not to mention that the craftsmanship on the chain really shines! Now, I'm a firm believer in the motto "less is more", but if you know how to pull off the 4 row chain, with style, attitude and color coordination, then believe me when I say this, you will own the attention of everyone when you walk into a spot sporting this one of a kind chain.
The 4 row chain is a bit on the heavy side, but after about 10 minutes of wearing it you completely forget that its there, that is until you notice everyone admiring the extravagant piece. The colors on this chain may be rather random and at first thought may seem to clash with one another however, they seem to be made for each other due the pattern in which they are placed next to each other on the chain.
As you may know Floyd Mayweather Jr. had a fight this weekend and well I could not resist at the chance of joining the ranks of The Money Team while showing off this one of a kind chain before heading out to check out the Pay-Per-View event. As you can see I even had local DJ/producer Manny Fresh sporting an iced out HipHopBling chain and pendant. Not only did we turn heads, we also turned another page in the style section of the local hip-hop/urban scene.
The other item up for review was a 3D Lemonade Canary Gold chain.
The chain is 36 inches long and the unique thing about it is that it has diamonds on all four sides of the chain. At 36 inches this chain really hangs, which in my opinion would be a great chain to wear with no pendant. This particular chain and style seems to be one that most hip hop artists are styling now-a-days. These new color options are rather helpful as you can now easily color coordinate your gear. The crowd has moved on to red, pink, black and yellow diamonds instead of your regular white diamonds. My particular taste still holds high regards for the white diamond as it gives a person a classier look.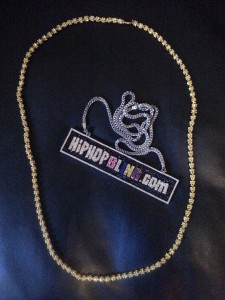 One chain that used to be widely known in the 80's is the Dookie Rope Chain. The 36 inch rope chain is layered with 24K gold and also comes with a heavy duty lobster clasp to secure the chain around your neck. Although it may seems like it is heavy the chain is very lightweight. However, one thing I did notice is that the chain is rather sturdy and it has very nice shine that does not dull with use or time. You can step with heavy feet and jump around, yet the chain and clasps will hold true to their purpose, around your neck and looking good.
These are the same type of chains that were worn by Run-DMC and LL Cool-J. They are heavy duty and are making a comeback, it's only a matter of time before we see them on music videos once again.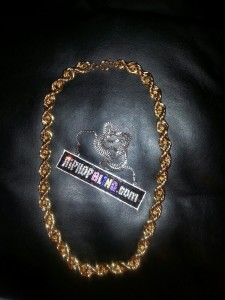 All in all I must say all of the chains were great quality, but the one that really impressed me was the Custom Mountain Iced Out Canary Black Diamond 4 Row Chain. It's screams out style and uniqueness all at the same time!!!
Here is one final look at all the chains combined, you may want to put some shades on as we are not responsible for temporary blindness.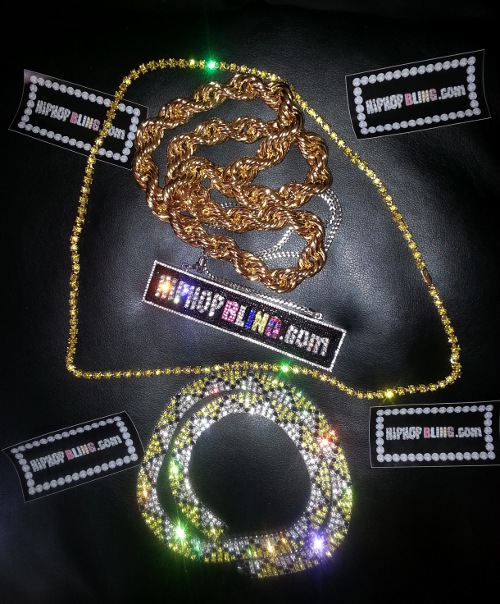 HipHopBling.com is a jewelry retailer and wholesaler with much experience and knowledge of the hip hop jewelry segment. Their company has been around for over a decade offering the finest products to consumers and hip hop related retailers across the globe.
Their mission: Is to find the best jewelry in the world and sell it at the lowest prices possible without compromising service.
HipHopBling does not use any false lifetime guarantees or claims of 200+ mils of plating. They take all of their photos in an in-house studio.Their new High Class Pendants Collection offers the best quality plated jewelry on the market and no one else sells them. They continue to improve their products and bring you the newest trends without paying thousands of dollars for the real thing.  Check out HipHopBling.com and you'll be getting the latest in hip hop jewelry, with low prices and fantastic customer service!