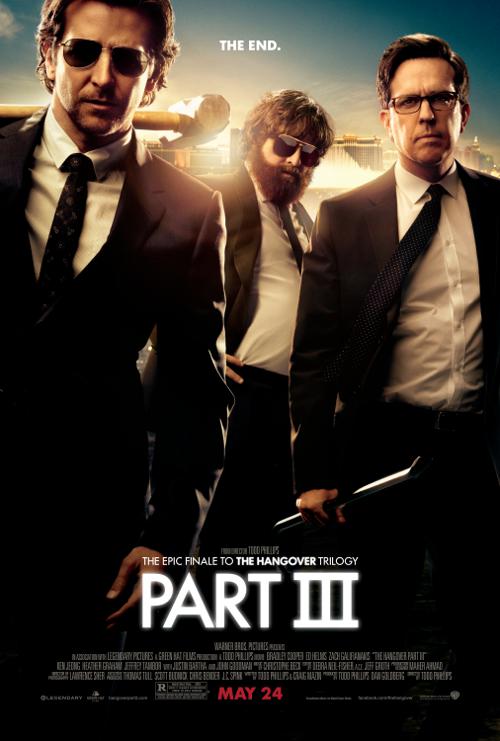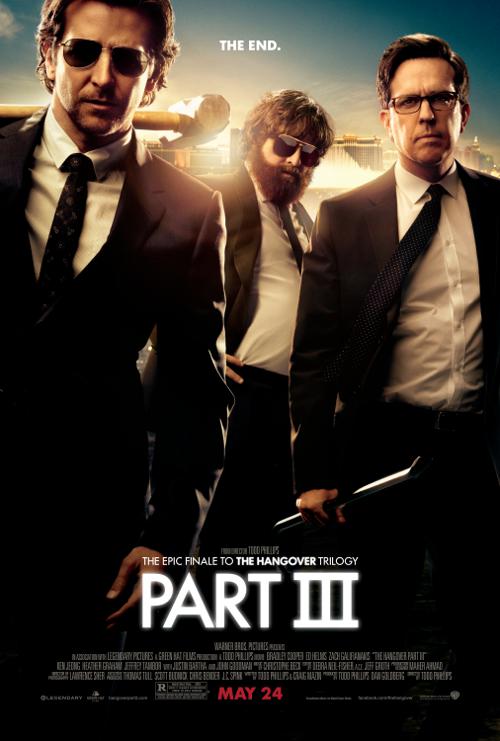 HipHopFirstClass is once again proud to announce that we are in full swing with Warner Bros fan prize packs giveaway. This time around we bring you a fun giveaway for the much anticipated film, "The Hangover Part III".
As you  know by now HipHopFirstClass stays on top of the game with the freshest news and one of a kind giveaway's. And today is no exception as we bring you "The Ultimate Hangover Part III Prize Pack"
The Ultimate Hangover 3 is only days away from hitting theaters and the only thing better than watching the final part of this Epic trilogy would be watching it for free!!!  Well thanks to our friends at Warner Bros we are able to give you a once in a lifetime opportunity at winning "The Ultimate Hangover Part III Prize Pack" which will include exclusive promotional items and movie passes.
Now if that was not enough to get you pumped up, then the fact that we have just been given the "go-ahead" to giveaway not 1 but 2 grand prize winners should have you at the edge of your seat, short of jumping in the air! That is if you are not already running around telling all your family members and friends to enter the giveaway.
First let me give you a short peak at the the upcoming Hangover 3 movie as you will find the answer to our question within the trailer.
Now let me give you a rundown of what will be included in the prize pack giveaways.
This exclusive giveaway will be held through HipHopFirstClass in which site fans and visitors will have an opportunity to enter & win a toiletry "hangover" kit, aviator style sunglasses, apparel Henley, iPhone case bottle opener, men's and women's shirts, drink tumbler, foam/mesh trucker hat and movie passes on behalf of the film.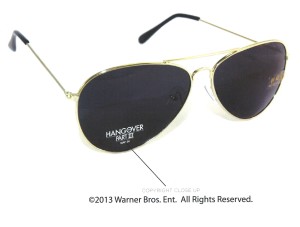 2 Grand prize including:
The Hangover Part III Toiletry "The Hangover 3 "Bag with Antiseptic Swabs, Aspirin, Lip Balm, Mints in Tin and Band-Aids
The Hangover Part III Alternate Apparel Henley
The Hangover Part III iPhone Case Bottle Opener
The Hangover Part III Next Level Ladies' "The End." Oatmeal V-Neck
The Hangover Part III Drink Tumbler
The Hangover Part III Foam/Mesh Trucker Hat
The Hangover Part III Aviator Sunglasses
2 (Admit Two) – The Hangover Part III Hollywood Movie Money
Hollywood Movie Money is a free admission voucher to see a predetermined film (The Hangover Part III) redeemable nation wide starting 05/24/13 through Wednesday., 06/19/13 in any theater excluding AMC Theaters.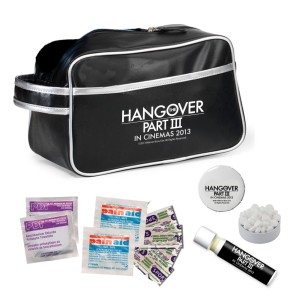 To Enter: Simply leave a comment below with the answer to the following question.

Watch the trailer and tell us how much money Mr. Chow has stolen from Marshall.
* Giveaway will end on May 23rd at 3 PM CST.
* Winners will be selected using a random number generator. You'll be contacted by email.
*Make sure to use a real email address.
* Winners will receive one of two prizes (2 Grand Prize )
It's been two years. Phil (Bradley Cooper), Stu (Ed Helms) and Doug (Justin Bartha) are happily living uneventful lives at home. Tattoos have been lasered off, files purged. The last they heard from disaster-magnet Leslie Chow (Ken Jeong), he'd been tossed into a Thai prison and, with him out of the way, the guys have very nearly recovered from their nights prowling the seamy side of Las Vegas in a roofie'd haze, and being kidnapped, shot at, and chased by drug-dealing mobsters in Bangkok.
The only member of the Wolfpack who's not content is Alan (Zach Galifianakis). Still lacking a sense of purpose, the group's black sheep has ditched his meds and given in to his natural impulses in a big way—which, for Alan, means no boundaries, no filters and no judgment—until a personal crisis forces him to finally seek the help he needs. And who better than his three best friends to make sure he takes the first step. This time, there's no bachelor party. No wedding. What could possibly go wrong? But when the Wolfpack hits the road, all bets are off. "The Hangover Part III" is the epic conclusion to an incomparable odyssey of mayhem and bad decisions, in which the guys must finish what they started by going back to where it all began: Las Vegas. One way or another…it all ends here.
Warner Bros. Pictures presents, in association with Legendary Pictures, a Green Hat Films Production of a Todd Phillips Movie: "The Hangover Part III." It will be distributed worldwide by Warner Bros. Pictures, a Warner Bros. Entertainment Company.
 Good Luck!!!