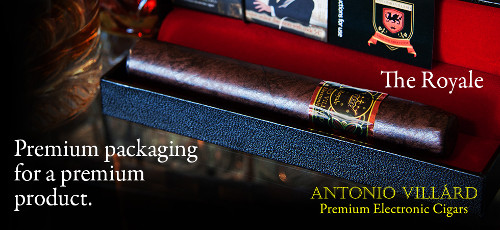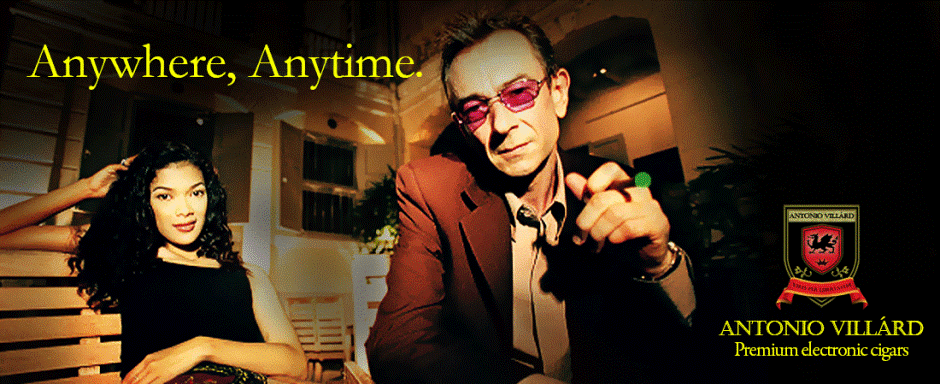 Antonio Villard is quickly becoming a synonym when it comes to premium E-Cigars and if you are not familiar with E-Cigars by now, then you are missing out on what happens to be one of the fastest trends there is! 

Now, its no secret that HipHopFirstClass caters to the hip hop community and our first class fans; in more ways than one. You depend on us for news, music, celebrity gossip, current fashion, technology, and new products. But more than anything you look to us, so that we may give you the inside scoop on what's fresh and trending in today's market that will keep you one step ahead of the crowd. Today we are glad to introduce a new innovation in cigars as we review Antonio Villard Royale and Cubana Premium e-cigars.
As an avid cigar smoker I was very excited to see what the Antonio Villard brand brought to the table. Would the e-cigars have a good taste? How long would the e-cigar's last? These were only a few of the concerns that were running through my mind when I was first introduced to the notion of an e-cigar.
One of my initial thoughts was that there was no way an e-cigar would have the taste of a fresh cigar, as many may know a good tasting cigar is very hard to duplicate.
However, with time comes change and though one can't help but feel the need to try and stop change, one must at times venture to new ideas as change also brings progress.
Long gone would be the days of trying to  find the perfect cigar along with a humidifier and forking over a nice lump of change just to sit down and enjoy a tasteful cigar. After all, smoking a cigar is all about picking the right one so that you may get the desired taste followed by the sense of peaceful success. But have we ever thought about the cons that come with smoking a regular cigar?
We can draw up an entire list, but I will save us all the headache and just concentrate on some key points.
Though a cigar may at times be very tasteful, it can also leave a strong odor on you, your clothes and wherever you may smoke the cigar. We all know that many people , including girlfriends and wives aren't to happy about having a tobacco smelling partner. Another key points is the amount of money you have to spend on a premium cigar which is usually around $40-$99. And to top it all off, once you open the cigar you must finish smoking it within 4 hours so that you may enjoy its rich taste, otherwise the tobacco will begin to dry and get a bitter taste. Now if you are a real cigar aficionado you will have to invest in a humidifier which will easily run you another $100. Now these are only a few issues that come with smoking cigars, but we really could go on with a much longer list.
Now let's take a look at all the pro's that an Antonio Villard premium e-cigar can offer you.
First and foremost, there is no no smoke, no smell and no flame to the e-cigar, so you wont have to worry about having a smelly house or clothes, this is something that the wives will love. The e-cigar produces vapor that simulates the taste of a real cigar. Of course, since there is no smoke there is no second hand smoke which is something that anyone can appreciate and will thank you for. One thing that did get me excited about this product was the fact that it produces no flame so you don't have to worry about the smoke and tar that a regular cigar would produce. You can smoke the Antonio Villard in the comfort of your office, car, or home and not have to worry about having a designated place to ash your cigar.
Now let's move on to the real world review! The real question is how well did the e-cigars do once they were delivered to our hands? Well, by now you may know that we are real picky when it comes to reviewing products as we don't want to recommend something that we do co-sign on. So we really looked deep into the Antonio Villard premium and our experience with the e-cigar was actually a great one.
One thing that did deter us at first was the fact that the first e-cigars which were shipped to us were damaged during delivery. Now we cannot blame Antonio Villard for this as they have no control over the way the packages are handled during transit. But I was impressed with the fact that once I sent photos of the damaged e-cigars to one of the company's representatives a new batch of e-cigars were once again shipped to me. This action gave them big points on our book as we can vouch for the fact that the company is actually interested in keeping their clients happy.
Antonio Villard  Cubana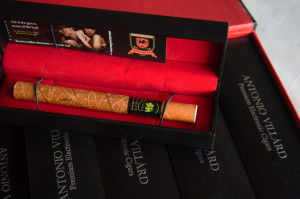 The first Antonio Villard that we tried was the Cubana, I was doubtful at first, but let me just say that this e-cigar left me impressed ever since I opened the box. You can tell that the company really put forth the extra effort with concentrating on quality. The box itself is a masterpiece, it has the nice leather look and feel to it. As you can see the writing on the box is etched on with a real swanky silver color. When you open the box, the red foam inside feels like suede, giving the box a more classy look and feel. And if you may notice the e-cigar is given a color and texture that mimics a real premium cigar. On top of that, each and every cigar box has a sticker seal on the box to prove that is has not been opened or tampered with by anyone, giving you top notch quality control. Oh, and did I mention that every cigar seal/box has a unique number on it, giving it a more special feel as you will know that there is no other e-cigar exactly like the one you receive.
As soon as you open the box you will pick up the slight scent of vanilla mixed with light tobacco, it is not too harsh, but rather more of a tease. Now as far as what kind of flavor the Cubana has, well I can only compare it to that of a high dollar cigar with a hint of vanilla on it. All in all the flavor is very unique and enjoyable, as a matter of fact my wife was even complimenting the scent that the Cubana has.
The Antonio Villard Premium e-cigars come ready to use, with no need to recharge, all you do is take a drag and watch the tip glow green, which will tell you that the cigar is working properly and soon thereafter vapor will be released from the intake side of the cigar.
Now many of you may be thinking what I'm I actually dragging from the e-cigar? Well it is simple vegetable glycerol, nicotine,flavoring agent, and water.
Another key point on the Cubana is the fact that you can draw vapor from it at least 1000 times which is equal to that of 10 cigars. On top of that, the Cuaban has an expiration date of six months from the date of the manufacturing under the original packed and dry conditions. Which means that you can probably have this e-cigar last you a few months before you would have to replace it for a new one.
Antonio Villard Royale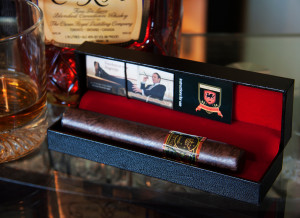 The other option to the Cubana would be the Royale, which in its own right is a very unique and classy premium as well. Again, the box has a very unique design along with the seal and its own unique identifier number on it.
The Royale, however does have a completely different look. The Royale is much bigger and the texture on it is that of a much larger cigar. You could even go as far as to saying that this just looks like a much manlier cigar. When holding the Royale in your hand it actually feels like it belongs there, it's not too small or too big, plus the weight on it does not make it feel uncomfortable.  On the other hand the Cubana is a bit thinner making it feel a bit dainty.
The Royale has a flavor that is very similar to the Cubana, but if anything I would say that the flavor is much richer & bolder, yet it is still a very smooth e-cigar.
Both the Royale and the Cubana go great during a quick break, though I recommend them more for when you are finally done with your day and are looking for some time to relax.
The Royale will also last you over for 2000 drags,which equals to 20 traditional cigars. On a typical sit down while enjoying a Royale or Cubana I would say that you could take an average of about 40 drags.  With this in mind the Royale should last you for a few months, which will save you a lot of money in the long run.
The sizes and colors of the cigars are slightly different yet both appeasing and the flavor in both provide a very unique experience as I have yet to choose a favorite. Neither one is better than the other as they both have a great flavor, if anything I would say it would be which style you prefer.
All in all, I must say that the Antonio Villard Premium e-cigars have been a unique experience, they are a product that a classier crowd can be proud of, but yet you don't have to break the back to get one of these as they are at a very competitive price.
The Royale sells for $39.99
The Cubana sells for $29.99
You can also check out more info at the Antonio Villard website
Antonio Villard Premium giveaway
Now here is a very nice surprise for all of our fans, we are going to give you a shot a winning some of Antonio Villards premium e-cigars. But first and foremost in order for you to enter you must be over 18 years of age.
Now all you have to do is comment on the bottom section and state the brand name of the E-cigars that we reviewed today. (Hint: A____ V____ )
*Must be 18 yrs or older to participate
* Giveaway will end on July 6, 2013 9:00 PM CST.
* Winners will be selected using a random number generator. You'll be contacted by email, so make sure to use a real email address.
* If the winner does not claim the prize within 24 hours a new winner will be randomly drawn.
* Winners will receive an Antonio Villard premium Cigars
*3 Winners will be chosen
*We will require ID verification to verify the winner is over 18
YOU MUST BE OF LEGAL SMOKING AGE TO BUY AND/OR USE ANY ANTONIO VILLARD E CIGAR PRODUCT.
WARNING: This electronic cigar is not intended for use by persons under legal smoking age, nonsmokers, women who are pregnant or breastfeeding, or persons with or at risk of heart disease, high blood pressure, diabetes, or taking medicine for depression or asthma. This ecigar contains nicotine. If you are allergic to nicotine, propylene glycol, or any combination of inhalants, if you are pregnant or breast-feeding, or if you have a heart condition, diabetes, high blood pressure or asthma, consult your physician before using any Antonio Villard E Cigar products.
Keep out of the reach of children and pets as ingestion of certain pieces can present a choking hazard. Nicotine can be toxic if inhaled or ingested in large doses, and may cause irritation to eyes and skin if exposed. Wash immediately with soap and water upon contact. Nicotine is highly addictive and habit forming.
CALIFORNIA PROPOSITION 65 Warning: This product contains nicotine, a chemical known to the state of California to cause birth defects or other reproductive harm.
Antonio Villard e cigar products are not marketed for use as a smoking cessation product. Just like traditional tobacco cigarettes, Antonio Villard Electronic Cigars are not approved by the American FDA.