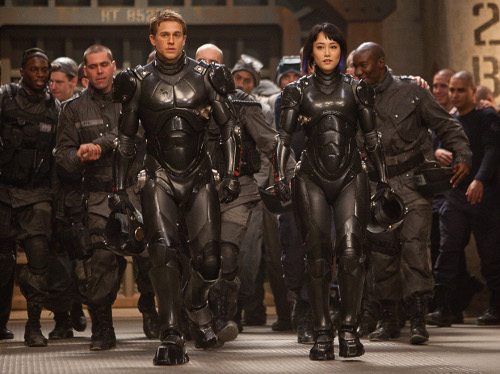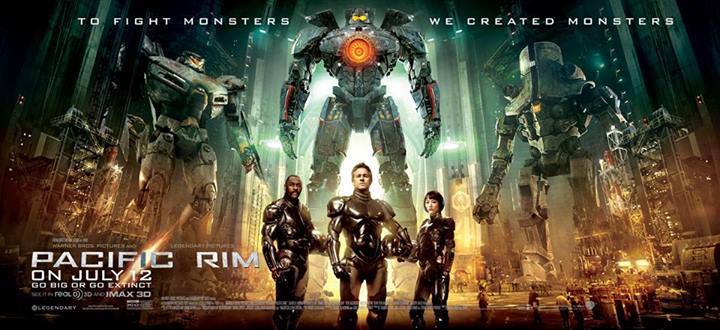 PACIFIC RIM is only days away from making its' monstrous debut as it hits the big screen on July 12th and we are more than excited to offer you the opportunity to join in on the action packed adventure! Warner Bros has done it again by not only bringing you a hot action packed summer movie, and this time around we are getting things started by running the Pacific Rim "Jaeger Pack" Sweepstakes.
In this unique one of a kind giveaway we will be giving 6 lucky fans a chance at winning some Pacific Rim movie passes and some exclusive Jaeger trading cards. Now here is the big thing about these trading cards, they are going o be very rare in the sense that they are only going to be made for this sweepstake's in order to promote the film. In other words they are going to be extremely valuable once the Sweepstakes ends.
First let me give you a quick rundown on the movie!
When Legions of monstrous creatures known as Kaiju, started rising from the sea water a war began that would take millions of lives and consume humanity's resources for years on end. To combat the giant Kaiju, a special type of weapon was devised: massive robots, called Jaegers,which are controlled simultaneously by two pilots whose minds are locked in a neural bridge. But even the Jaegers are proving nearly defenseless in the face of the relentless Kaiju. On the verge of defeat, the forces defending mankind have no choice but to turn to two unlikely heroes — a washed up former pilot (Charlie Hunnam) and an untested trainee (Rinko Kikuchi) — who are teamed to drive a legendary but seemingly obsolete Jaeger from the past. Together, they stand as mankind's last hope against the mounting apocalypse
Now check out the awesome trailer with each and every action-packed sequence!
This exclusive giveaway will be held through HipHopFirstClass in which site fans and visitors will have an opportunity to enter & win some exclusive Jaeger Pack trading cards and movie passes on behalf of the film.
Entering the Pacific Rim "Jaeger Pack" Sweepstakes. is as simple as answering one question in the lower comment section of this page.
Just let us know who your all time favorite "Kaiju" is.
(examples of Kaiju are  – Godzilla, Mothra, Rodan, Gamera etc…all the classic monsters from the old Japanese movies)
Now here is the what our 6 lucky winners will receive!
6 winners will be chosen to win:
·         1 – Pair of passes to see PACIFIC RIM with PACIFIC RIM Hollywood Movie Money
o   Hollywood Movie Money is a free admission voucher to see a predetermined film (PACIFIC RIM) redeemable nation wide starting 07/12/13 through Wednesday, 08/08/13 in any theater excluding AMC Theaters.
·         1 – set of exclusive Jaeger Trading Cards
o   These cards were created exclusively for the film and NOT available in any stores.  Set of 6 high quality cards that feature the awesome Jaegers featured in the film.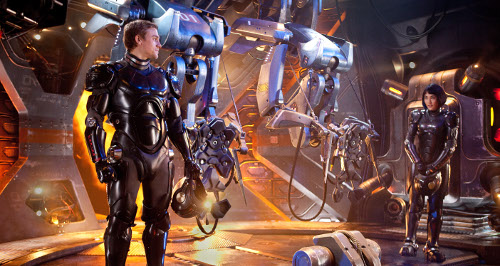 * Giveaway will end on July 12th at 9 PM CST.
* Winners will be selected using a random number generator. You'll be contacted by email.
*Make sure to use a real email address.
* Winners will receive one set of exclusive Jaeger Trading Cards and one pair of movie passes for the film (6 Grand Prize's )
GOOD LUCK!!!!!!!
Director:
Guillermo del Toro
Writers:

 

Screenplay by Travis Beacham and Guillermo del Toro
Story by Travis Beacham
Producers:

 

Thomas Tull, Jon Jashni, Guillermo del Toro, Mary Parent
Executive Producers:

 

Callum Greene

 
Cast:
Charlie Hunnam, Idris Elba, Rinko Kikuchi, Charlie Day, Ron Perlman, Robert Kazinsky,
Max Martini, Clifton Collins, Jr., Burn Gorman, Larry Joe Campbell, Brad William Henke, Diego Klattenhoff
Warner Bros. Pictures and Legendary Pictures present a Legendary Pictures/DDY Production, a Guillermo del Toro film. Opening July 12, 2013, the film will be released in 2 D and 3 D in select theaters and IMAX ® , and will be distributed worldwide by Warner Bros. Pictures, a Warner Bros. Entertainment Company. This film has been rated PG -13 for sequences of intense sci- fi action and violence throughout, and brief language.