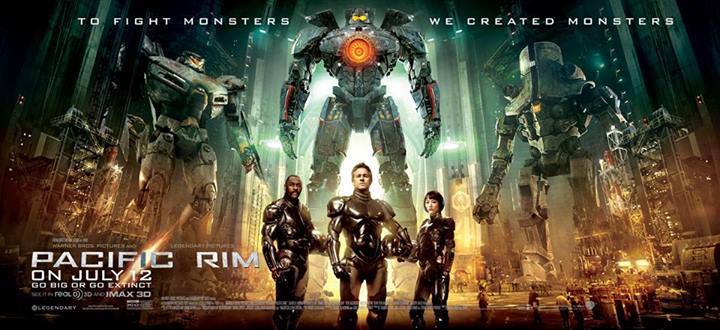 PACIFIC RIM has been making monstrous waves in theaters nation-wide! With the films hit success, many of our fans have been left wanting more of this action packed film.
Well fear not as we have just gotten word that Pacific Rim: Man, Machines & Monsters has been made available. In this epic book you will not only get behind the scenes info, it will also  include some exclusive material that is not available anywhere else.
First let me give you a quick breakdown of the book as you will find the answer for our question here. Remember in order to participate on this great giveaway you must correctly answer our question.
THE INNER WORKING OF AN EPIC FILM
FOREWORD BY GUILLERMO DEL TORO
WRITTEN BY DAVID S. COHEN
From acclaimed filmmaker Guillermo del Toro comes Warner Bros. Pictures' and Legendary Pictures' epic sci-fi action adventure Pacific Rim.
 When legions of monstrous creatures, known as Kaiju, started rising from the sea, a war began that would take millions of lives and consume humanity's resources for years. To combat the giant Kaiju, a special weapon was devised—massive robots, called Jaegers, that are piloted by an international crew of soldiers in the Pan Pacific Defense Corps. But even the Jaegers are proving nearly defenseless in the face of the relentless Kaiju. On the verge of defeat, two unlikely heroes—a washed-up former pilot and an untested trainee—team up to pilot a legendary but seemingly obsolete Jaeger on a mission to halt the mounting apocalypse.
 Pacific Rim: Man, Machines & Monsters chronicles the production of the film with stunning concept art, captivating photography, and cast and crew descriptions of the shoot.
 Explore the world of Pacific Rim through a wealth of special removable items including:
·         Pages from director Guillermo del Toro's notebooks
·         Jaeger badge stickers
·         Jaeger "Victory" poster
·         Russian anti-Kaiju propaganda poster
·         Sketches and diagrams of Kaiju showing their unique and monstrous physiology
·         Jaeger blueprints and designs
·         Pan Pacific Defense Corp ID Badges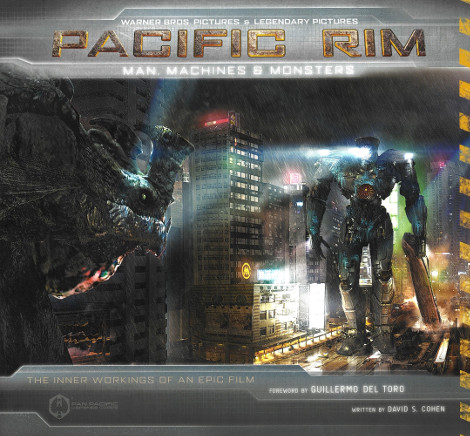 If you've already seen the movie then you know what all the excitement is about. If not well then now is your chance at winning some great prizes and a pair of tickets to check out Pacific Rim!
This exclusive giveaway will be held through HipHopFirstClass in which site fans and visitors will have an opportunity to enter & a thematic PACIFIC RIM "Man, Machines, and Monsters" book, Jaeger Card Set and Hollywood Movie passes to see the film on behalf of the film.
Entering the PACIFIC RIM "Man, Machines, and Monsters" Sweepstakes is as simple as answering one question in the lower comment section of this page.
Tell us who the writer of  PACIFIC RIM "Man, Machines, and Monsters" book is. 
Hint: (D____ _ ______)
There will be 1 grand prize including:
·         01 – PACIFIC RIM "Man, Machines, and Monsters" Book
·         01 – PACIFIC RIM Jaeger Card Sets
·         01 (Admit Two) – PACIFIC RIM Hollywood Movie Money
o   Hollywood Movie Money is a free admission voucher to see a predetermined film (PACIFIC RIM) redeemable nation wide starting 07/12/13 through Wednesday., 08/08/13 in any theater excluding AMC Theaters.
* Giveaway will end on July 15th at 9 AM CST.
* Winners will be selected using a random number generator. You'll be contacted by email.
*Make sure to use a real email address.
* Winners will receive one Pacific Rim "Man, Machines, Monster" book, a set of exclusive Jaeger Trading Cards and one pair of movie passes for the film (1 Grand Prize's )
Good Luck!!!!
Director:
Guillermo del Toro
Writers:

 

Screenplay by Travis Beacham and Guillermo del Toro
Story by Travis Beacham
Producers:

 

Thomas Tull, Jon Jashni, Guillermo del Toro, Mary Parent
Executive Producers:

 

Callum Greene

 
Cast:
Charlie Hunnam, Idris Elba, Rinko Kikuchi, Charlie Day, Ron Perlman, Robert Kazinsky,
Max Martini, Clifton Collins, Jr., Burn Gorman, Larry Joe Campbell, Brad William Henke, Diego Klattenhoff
Warner Bros. Pictures and Legendary Pictures present a Legendary Pictures/DDY Production, a Guillermo del Toro film. Opening July 12, 2013, the film will be released in 2 D and 3 D in select theaters and IMAX ® , and will be distributed worldwide by Warner Bros. Pictures, a Warner Bros. Entertainment Company. This film has been rated PG -13 for sequences of intense sci- fi action and violence throughout, and brief language.