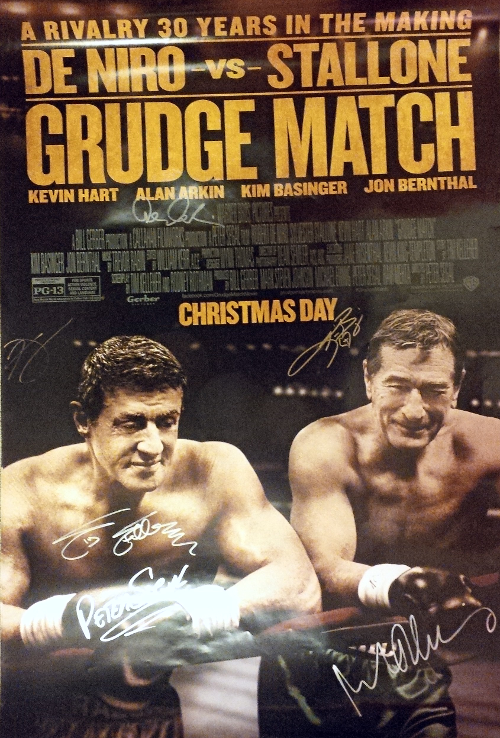 As the holiday's quickly approach, Warner Bros. and HipHopFirstClass have teamed up with a one of a kind giveaway, an autographed poster for Warner Bros. much anticipated movie, GRUDGE MATCH.
The image on the top of the post is the actual GRUDGE MATCH autographed poster. The poster was signed by director Peter Segal and cast members Robert De Niro, Sylvester Stallone, Kim Basinger, Alan Arkin and Kevin Hart.
Warner Bros. Pictures' "Grudge Match" stars award-winning movie legends Oscar® winner Robert De Niro ("Raging Bull," "Silver Linings Playbook") and Oscar® nominee Sylvester Stallone (the "Rocky" films, "The Expendables") as old boxing rivals who come out of retirement for one final match.  Peter Segal ("Get Smart") directs the comedy.
In "Grudge Match," De Niro and Stallone play Billy "The Kid" McDonnen and Henry "Razor" Sharp, two local Pittsburgh fighters whose fierce rivalry put them in the national spotlight.  Each had scored a victory against the other during their heyday, but in 1983, on the eve of their decisive third match, Razor suddenly announced his retirement, refusing to explain why but effectively delivering a knock-out punch to both their careers.  Thirty years later, boxing promoter Dante Slate Jr., seeing big dollar signs, makes them an offer they can't refuse: to re-enter the ring and settle the score once and for all.
Ok, so now let us get to the most interesting part as I am sure many of you are now wondering on how you can enter to win. Well pay close attention as you will want the best shot at winning this one of a kind Autographed poster. Remember you will never find another poster that is autographed by Peter Segal, Robert De Niro, Sylvester Stallone, Kim Basinger, Alan Arkin and KEvin Hart! This truly is a one of a kind poster along with a one of a kind opportunity!
HipHopFirstClass asking site visitors to enter to win a one of a kind Grudge Match Autographed poster by answering the following question: Who do you think will win the Match between Billy "The Kid" MecDonnen and Henry "Razor" Sharp?
There is no right or wrong answer, we just want to know who you are rooting for.
Give us the answer on the bottom of the page, on the comment section and remember to use your real email address as this will be the only form in which we will contact the winner.
* Giveaway will end on January 2, 2014 at 9 AM CST.
* Winner will be selected using a random number generator. You'll be contacted by email.
*All entrants must be U.S. residents, ages 18 years or older, and must provide a valid email address.
* Winner will receive 1 Grudge Match Autographed poster.
*The winner has 24 hours to claim their prize. If a potential prize winner does not claim a prize, the prize will be re-awarded.
                                  GOOD LUCK!!!!!!! And Happy Holidays!!!