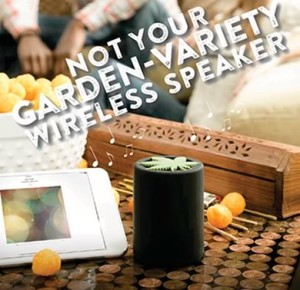 Just when we thought we had seen everything in the Bluetooth Speaker department, 420 Audio hits us with a very interesting piece. One that offers not only big sound in a packed speaker, but also a few points of amusement while you listen along to your favorite jams.
420 Audio introduces the new High-Fi Wireless Bluetooth Speaker just in time for 4/20, the holiday celebrated by "green"-enthusiasts across the country every April 20th. The High-Fi speaker connects to smartphones and tablets using Bluetooth, packing a fresh sound and sick design that expresses your affinity for the green goodness.
And for those of you who are worried about it's legalities, well the best part is that it's legal in all 50 states. Why? Well because it's simply a speaker with a very unique design that spits out a couple of quirky phrases…nothing more nothing less.
The speaker will make its debut this weekend in Denver at the 420 Audio booth #1304D at Cannabis Cup.
The High-Fi Wireless Bluetooth Speaker turns any moment into a high time so you can kick back and connect with those around you. The speaker is small enough to pack away in your stash box so you can easily pull it out and add your favorite jams at any occasion. It even has fun operating sounds to discover. When you begin to pair the speaker to your phone it coughs, and when it's successfully connected the speaker giggles. Other sound effects include a bong rip when you power up and an "I'm Hungry" cry when you power down.
Features:
•Sparks up anywhere you do to play music directly from your smartphone or tablet
•High-quality sound that will blow your mind
•USB rechargeable lithium-ion battery lets you blaze for 6 hours to outlast the most epic sessions
•AUX input for your old school wired sources for when you want to play your Dazed and Confused CD from your stereo
•Fun and familiar sounds to discover for key operations
The speaker is available for purchase at the 420 Audio booth #1304D at Cannabis Cup and online at www.420Audio.com for $39.99.