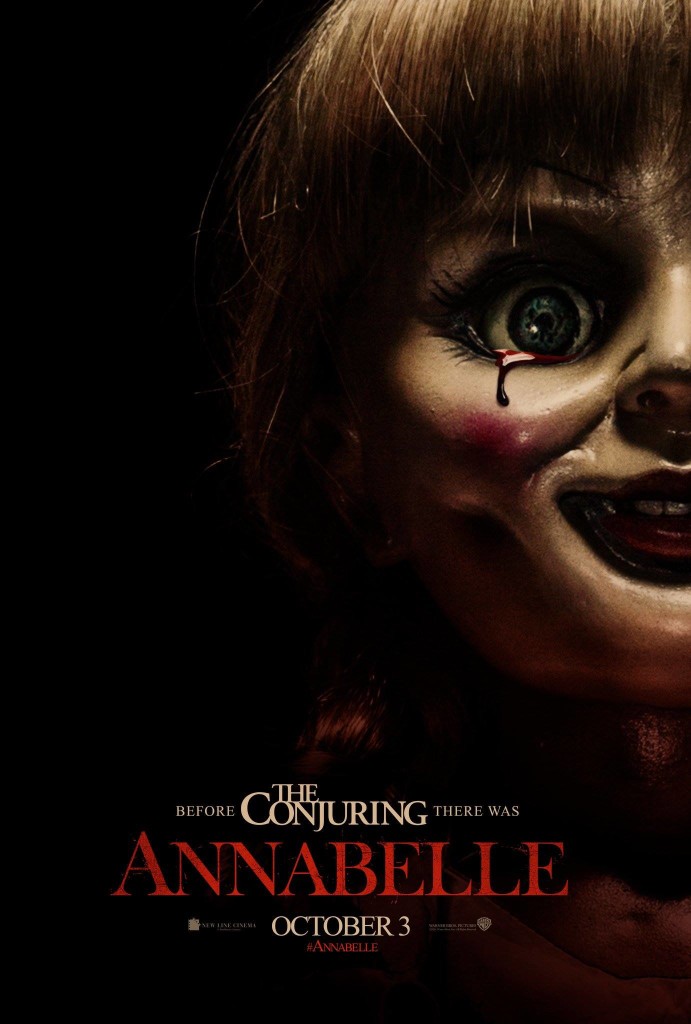 Before THE CONJURING, there was Annabelle.  And today we have a special treat for you that may just raise a few goosebumps!
The official main trailer for ANNABELLE from Warner Bros. Pictures and New Line Cinema has just been released!!! And we are bringing it straight to you, right here right now! Before proceeding though I must warn you, this movie is not for the timid at heart and you may have sleepless nights, but if you like horror movies that will keep you at the edge of your seat with one eye closed then by all mean…..enjoy!

She terrified you in "The Conjuring," but this is where it all began for Annabelle.
Capable of unspeakable evil, the actual doll exists locked up in an occult museum in Connecticut—visited only by a priest who blesses her twice a month.
New Line Cinema's supernatural thriller "Annabelle" begins before the evil was unleashed.
John Form has found the perfect gift for his expectant wife, Mia—a beautiful, rare vintage doll in a pure white wedding dress.  But Mia's delight with Annabelle doesn't last long.
On one horrific night, their home is invaded by members of a satanic cult, who violently attack the couple.  Spilled blood and terror are not all they leave behind.  The cultists have conjured an entity so malevolent that nothing they did will compare to the sinister conduit to the damned that is now…Annabelle.
Annabelle Wallis ("X-Men: First Class") and Ward Horton ("The Wolf of Wall Street") star as the Forms. Oscar nominee Alfre Woodard ("Cross Creek," "Twelve Years a Slave") stars as Evelyn, a neighbor who owns a bookstore and is familiar with the occult.   Rounding out the cast are Kerry O'Malley (TV's "Those Who Kill") and Brian Howe ("Devil's Knot") as neighbors  Sharon and Pete Higgins; Tony Amendola (TV's "Once Upon A Time") as Father Perez; and Eric Ladin (TV's "Boardwalk Empire,") as Detective Clarkin.
"Annabelle" reunites the filmmakers behind 2013's hugely successful supernatural thriller "The Conjuring."  James Wan, director of the global hit, is producing "Annabelle" with Peter Safran. John R. Leonetti, who served as cinematographer on "The Conjuring," is directing.
New Line Cinema presents an Atomic Monster/Safran Company Production, "Annabelle." Scheduled for release October 3, 2014, the film will be distributed by Warner Bros. Pictures, a Warner Bros. Entertainment company.