Inherent Vice is on its way to the big screen and we've got some prize packs to giveaway!  We will have a total of 5 WINNERS!!!!!!!

So keep reading for details on how to enter and check out the movie trailer below!
When private eye Doc Sportello's ex-old lady suddenly out of nowhere shows up with a story about her current billionaire land developer boyfriend whom she just happens to be in love with, and a plot by his wife and her boyfriend to kidnap that billionaire and throw him in a loony bin…well, easy for her to say.
It's the tail end of the psychedelic `60s and paranoia is running the day and Doc knows that "love" is another of those words going around at the moment, like "trip" or "groovy," that's being way too overused—except this one usually leads to trouble.
With a cast of characters that includes surfers, hustlers, dopers and rockers, a murderous loan shark, LAPD Detectives, a tenor sax player working undercover, and a mysterious entity known as the Golden Fang, which may only be a tax dodge set up by some dentists… Part surf noir, part psychedelic romp—all Thomas Pynchon.
Check out the trailer!! 

Warner Bros. Pictures presents, in association with IAC Films, a JoAnne Sellar/Ghoulardi Film Company production, "Inherent Vice." Opening in limited release on December 12, 2014 and expanding on January 9, 2015, the film will be distributed by Warner Bros. Pictures, a Warner Bros. Entertainment Company.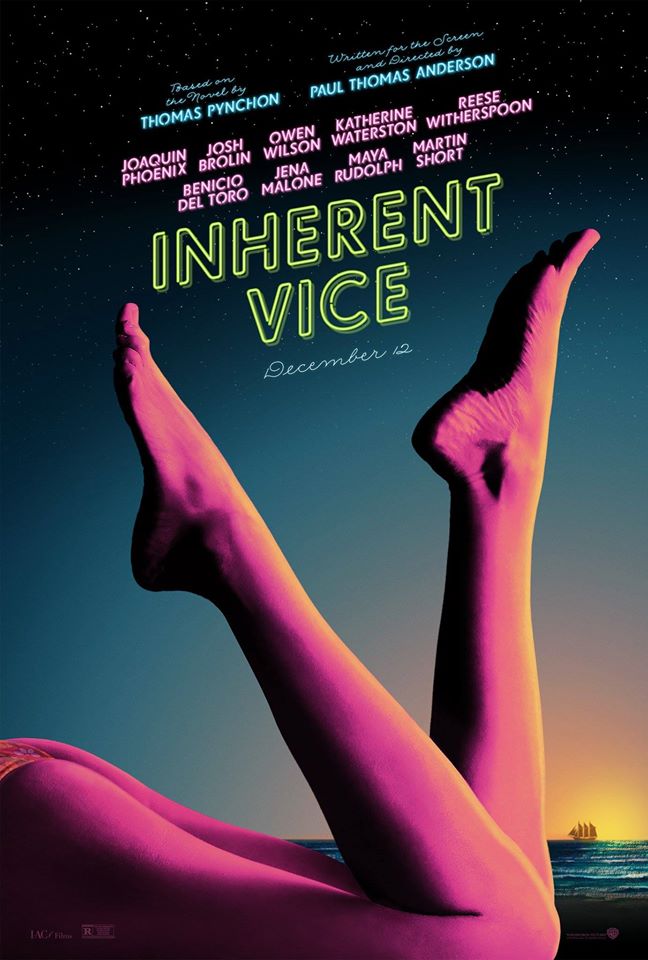 "Inherent Vice" has been rated R for drug use throughout, sexual content, graphic nudity, language and some violence.
 ( 5 prize packs each including the below items) – ARV $75
1 – Canvas Vintage Jersey "Book Cover" Black T-Shirt (Medium) ($10)
1 – AMERICAN APPAREL POLY/COTTON (XL) ($10)
1 – Puka Shell Necklace with Metal Medallion ($10)
1 – Movie Poster  ($5)
1 – Hollywood Movie Money, redeemable toward 2 Tickets to see Inherent Vice at participating theaters ($20)
In order to enter this giveaway, tell us what you thought about the movie trailer in the comment section below!
• Giveaway will end on January 12 , 2015 at 9 AM CST.
• Winners will be selected using a random number generator. You'll be contacted by email.
•All entrants must be U.S. residents, ages 18 years or older, and must provide a valid email address.
• 5 Winners will be picked at random and receive the Inherent Vice Prize Pack.
• Winners have 24 hours to claim their prize. If a potential prize winner does not claim a prize, the prize will be re-awarded.

New to HipHopFirstClass? We bring you the latest Hip-Hop news–Free in your mailbox every morning. Click here to subscribe !
RELEASE AND INDEMNIFICATION:
BY ENTERING THE SWEEPSTAKES, ENTRANTS RELEASE AND HOLD HARMLESS WARNER BROS. ENTERTAINMENT INC. AND EACH OF ITS RESPECTIVE PARENTS, DIVISIONS, AFFILIATES SUBSIDIARIES, AGENTS AND ADVERTISING AGENCIES (COLLECTIVELY, "WBEI") FROM AND AGAINST ANY AND ALL LOSSES, DAMAGES, RIGHTS, CLAIMS, AND ACTIONS OF ANY KIND ARISING IN WHOLE OR IN PART, DIRECTLY OR INDIRECTLY, FROM THE SWEEPSTAKES OR PARTICIPATION IN ANY SWEEPSTAKES-RELATED ACTIVITY (INCLUDING WITHOUT LIMITATION THE REMOVAL FROM THE SITE OF, OR DISCONTINUATION OF ACCESS TO, ANY MATERIALS), OR RESULTING DIRECTLY OR INDIRECTLY, FROM ACCEPTANCE, POSSESSION, USE, OR MISUSE OF ANY PRIZE AWARDED IN CONNECTION WITH THE SWEEPSTAKES, INCLUDING WITHOUT LIMITATION PERSONAL INJURY, DEATH, AND/OR PROPERTY DAMAGE, AS WELL AS CLAIMS BASED ON PUBLICITY RIGHTS, DEFAMATION, AND/OR INVASION OF PRIVACY.
LIMITATION OF LIABILITY:
IN NO EVENT WILL THE WBEI BE RESPONSIBLE OR LIABLE FOR ANY DAMAGES OR LOSSES OF ANY KIND, INCLUDING WITHOUT LIMITATION DIRECT, INDIRECT, INCIDENTAL, CONSEQUENTIAL, OR PUNITIVE DAMAGES, ARISING OUT OF ANY ACCESS TO AND/OR USE OF THE SWEEPSTAKES SITE, THE DOWNLOADING FROM AND/OR PRINTING MATERIAL DOWNLOADED FROM THE SWEEPSTAKES SITE, THE REMOVAL FROM THE SWEEPSTAKES SITE OF, OR DISCONTINUATION OF ACCESS TO, ANY MATERIALS, OR THE ACCEPTANCE, POSSESSION, USE, OR MISUSE OF, OR ANY HARM RESULTING FROM THE ACCEPTANCE, POSSESSION, USE OR MISUSE OF, OR PARTICIPATION IN, ANY PRIZE AWARDED IN CONNECTION WITH THE SWEEPSTAKES. WITHOUT LIMITING THE FOREGOING, THE SWEEPSTAKES, ALL PRIZES, AND ALL MATERIALS PROVIDED ON OR THROUGH THE SITE ARE PROVIDED "AS IS" WITHOUT WARRANTY OF ANY KIND, EITHER EXPRESS OR IMPLIED, INCLUDING WITHOUT LIMITATION THE IMPLIED WARRANTIES OF MERCHANTABILITY, FITNESS FOR A PARTICULAR PURPOSE, AND NON-INFRINGEMENT.