American Sniper is one of the most anticipated movies of the year and now its only days away from hitting movie theaters! And we now all you fans are itching to go see this story that has no equal, in celebration we've got some prize packs to giveaway!  We will have a total of 5 WINNERS!!!!!!!

So keep reading for details on how to enter and check out the movie trailer below!
U.S. Navy SEAL Chris Kyle is sent to Iraq with only one mission: to protect his brothers-in-arms. His pinpoint accuracy saves countless lives on the battlefield and, as stories of his courageous exploits spread, he earns the nickname "Legend." However, his reputation is also growing behind enemy lines, putting a price on his head and making him a prime target of insurgents. He is also facing a different kind of battle on the home front: striving to be a good husband and father from halfway around the world.
Despite the danger, as well as the toll on his family at home, Chris serves through four harrowing tours of duty in Iraq, personifying the SEAL creed to "leave no man behind." But upon returning to his wife, Taya Renae Kyle (Sienna Miller), and kids, Chris finds that it is the war he can't leave behind.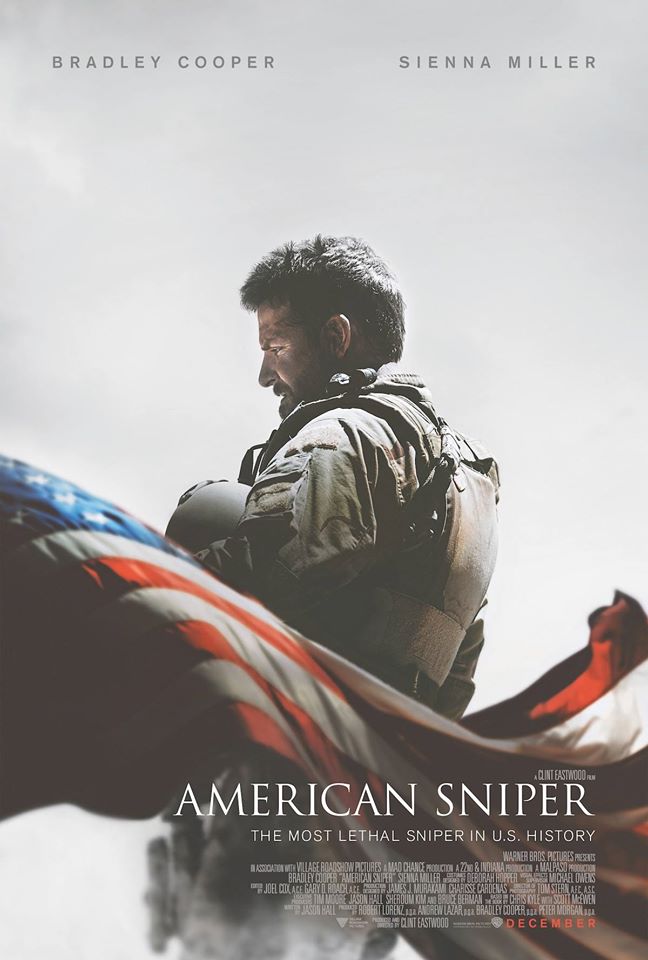 From director Clint Eastwood comes "American Sniper," starring Bradley Cooper as Chris Kyle, the most lethal sniper in U.S. military history. But there was much more to him than his skill as a sharpshooter.
americansnipermovie.com
"AMERICAN SNIPER" PRIZE PACK SWEEPSTAKES
( 5 prize packs each including the below items) – ARV $65
1 – Alternative Rocky Eco-Fleece Hooded Full-Zip Sweatshirt ($30)
1 – Alternative Short Sleeve T-Shirt ($10)
1 – Movie Poster  ($5)
1 – Hollywood Movie Money vouchers, redeemable toward 4 Tickets in total to see American Sniper at participating theaters ($20)
In order to enter this giveaway, tell us what you thought about the movie trailer in the comment section below! Kind of left us with a cliffhanger huh!?
• Giveaway will end on January 18 , 2015 at 9 AM CST.
• Winners will be selected using a random number generator. You'll be contacted by email.
•All entrants must be U.S. residents, ages 18 years or older, and must provide a valid email address.
• 5 Winners will be picked at random and receive the American Sniper Prize Pack.
• Winners have 24 hours to claim their prize. If a potential prize winner does not claim a prize, the prize will be re-awarded.
New to HipHopFirstClass? We bring you the latest Hip-Hop news–Free in your mailbox every morning. Click here to subscribe !
RELEASE AND INDEMNIFICATION:
BY ENTERING THE SWEEPSTAKES, ENTRANTS RELEASE AND HOLD HARMLESS WARNER BROS. ENTERTAINMENT INC. AND EACH OF ITS RESPECTIVE PARENTS, DIVISIONS, AFFILIATES SUBSIDIARIES, AGENTS AND ADVERTISING AGENCIES (COLLECTIVELY, "WBEI") FROM AND AGAINST ANY AND ALL LOSSES, DAMAGES, RIGHTS, CLAIMS, AND ACTIONS OF ANY KIND ARISING IN WHOLE OR IN PART, DIRECTLY OR INDIRECTLY, FROM THE SWEEPSTAKES OR PARTICIPATION IN ANY SWEEPSTAKES-RELATED ACTIVITY (INCLUDING WITHOUT LIMITATION THE REMOVAL FROM THE SITE OF, OR DISCONTINUATION OF ACCESS TO, ANY MATERIALS), OR RESULTING DIRECTLY OR INDIRECTLY, FROM ACCEPTANCE, POSSESSION, USE, OR MISUSE OF ANY PRIZE AWARDED IN CONNECTION WITH THE SWEEPSTAKES, INCLUDING WITHOUT LIMITATION PERSONAL INJURY, DEATH, AND/OR PROPERTY DAMAGE, AS WELL AS CLAIMS BASED ON PUBLICITY RIGHTS, DEFAMATION, AND/OR INVASION OF PRIVACY.
LIMITATION OF LIABILITY:
IN NO EVENT WILL THE WBEI BE RESPONSIBLE OR LIABLE FOR ANY DAMAGES OR LOSSES OF ANY KIND, INCLUDING WITHOUT LIMITATION DIRECT, INDIRECT, INCIDENTAL, CONSEQUENTIAL, OR PUNITIVE DAMAGES, ARISING OUT OF ANY ACCESS TO AND/OR USE OF THE SWEEPSTAKES SITE, THE DOWNLOADING FROM AND/OR PRINTING MATERIAL DOWNLOADED FROM THE SWEEPSTAKES SITE, THE REMOVAL FROM THE SWEEPSTAKES SITE OF, OR DISCONTINUATION OF ACCESS TO, ANY MATERIALS, OR THE ACCEPTANCE, POSSESSION, USE, OR MISUSE OF, OR ANY HARM RESULTING FROM THE ACCEPTANCE, POSSESSION, USE OR MISUSE OF, OR PARTICIPATION IN, ANY PRIZE AWARDED IN CONNECTION WITH THE SWEEPSTAKES. WITHOUT LIMITING THE FOREGOING, THE SWEEPSTAKES, ALL PRIZES, AND ALL MATERIALS PROVIDED ON OR THROUGH THE SITE ARE PROVIDED "AS IS" WITHOUT WARRANTY OF ANY KIND, EITHER EXPRESS OR IMPLIED, INCLUDING WITHOUT LIMITATION THE IMPLIED WARRANTIES OF MERCHANTABILITY, FITNESS FOR A PARTICULAR PURPOSE, AND NON-INFRINGEMENT.