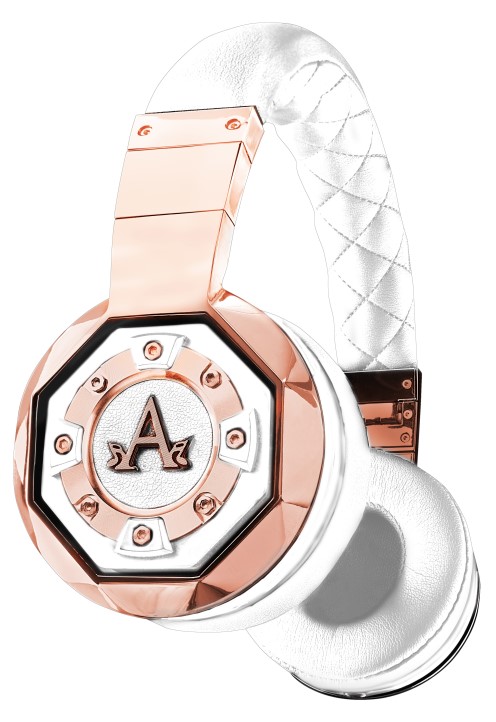 A-Audio is certainly making an impact at CES and they are really taking it to the competition as they released yet another jaw-dropping product! It was not enough that they stunned fans with their release of the Prodigy Bluetooth Speaker , they took it a step further by taking a proven product; A-Audio Legacy Headphones and giving them a makeover and covering them with a hue of Rose Gold! 😀
A-Audio introduces blushes of Rose Gold to their classic Lyric On-Ear Headphones under their new LUX line; debuting at the 2015 International CES at South Hall, Booth #21259
A-Audio announced the new Rose Gold Lyric On-Ear Headphones, the latest early-access offering and first addition to A-Audio's new LUX line. The new Rose Gold Lyric headphones combine A-Audio's distinctive silhouette and sound quality with chic Rose Gold, creating the ultimate blend of edgy yet feminine fashion technology. A-Audio will preview the Rose Gold Lyric On-Ear Headphones for the first time at the 2015 International CES, South Hall Booth #21259 , January 6-9 in Las Vegas.
The Rose Gold Lyric On-Ear Headphones pair delicate rose hue detailing with A-Audio's edgy signature style, making them a coveted audio accessory to complete almost any look. The headphones incorporate supple leathers with diamond-quilted stitching into the headband and premium anti-vibration octagonal bezels on each ear cup, creating a lavish listening experience.
The Rose Gold Lyric On-Ear Headphones have a compact design that's both lightweight and comfortable, making them perfect for travel. The chic premium headphones not only turn heads but offer unparalleled quality with passive noise cancellation for rich and crystal clear sound. They bring together high-tech components designed for optimal sound and enduring performance, including 40 mm drivers and powerful circuitry.
"With A-Audio's unique blend of luxury, premium construction and innovative sound quality, we wanted to introduce a new take on our Lyric On-Ear Headphone by offering one of the most classic yet fashionable tones, Rose Gold," says A-Audio President Christian Iacovelli. "The new Rose Gold Lyric On-Ear Headphones bring a feminine twist to our line of headphones, inspired by luxury auto and timepiece design."
Limited quantities of the A-Audio Rose Gold On-Ear Lyric Headphones will be available for early-access this February for $199 at A-Audio.com.
Stay tuned for more from A-Audio and a review of these edgy yet classy headphones! 🙂