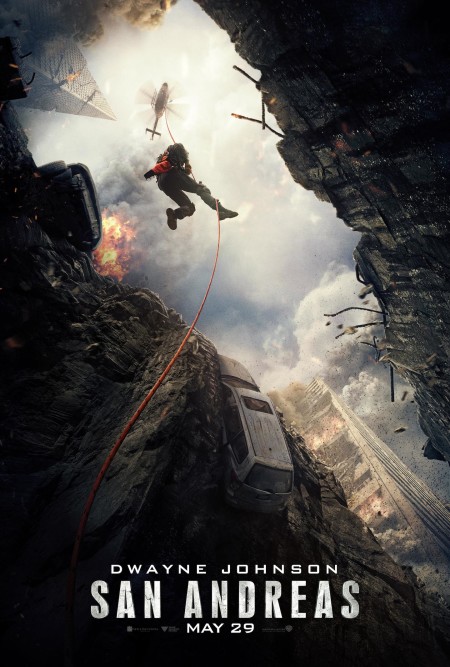 San Andreas seems to be one of the most talked about upcoming movies this month; Dwayne Johnson has proven to keep movies full of action and we expect San Andreas to be no exception! With its exepcted release date set for May 29th, we want to make sure you get a First Class experience! So make sure you enter to win 1 of 3 San Andreas prize packs that will not only include some movie passes, but some great movie gear as well!
Check out the movie trailer below and make sure you go over all the details on the movie Prize Packs!!! 

After the infamous San Andreas Fault finally gives, triggering a magnitude 9 earthquake in California, a search and rescue helicopter pilot (Dwayne Johnson) and his estranged wife make their way together from Los Angeles to San Francisco to save their only daughter.
But their treacherous journey north is only the beginning. And when they think the worst may be over…it's just getting started.
The action thriller "San Andreas," from New Line Cinema and Village Roadshow Pictures, reunites Dwayne Johnson with director Brad Peyton and producer Beau Flynn, following their collaboration on the global hit "Journey 2: The Mysterious Island."
Wow!!! That left me at the edge of my feet! I don't think this is a movie you want to miss out on!Check out all the movie gear the winners will be receiving

(3 Winners Will Receive)—-
1 – Grey T-Shirt ($7)
1 – Mesh Hat ($7)
1 – Whistle ($4)
1 – Flashlight Keyring
1 – Hollywood Movie Money vouchers, redeemable toward 2 Tickets in total to see SAN ANDREAS at participating theaters ($24)
1 – Movie Posters  ($10)
In order to enter this giveaway, enter #San Andreas on the comment section below!
For added entries share this giveaway along with #SanAndreas on your twitter and Facebook pages and tag us in it!#HipHopFirstClass
• Giveaway will end on May 29 , 2015 at 5 PM CST.
• Winners will be selected using a random number generator. You'll be contacted by email.
• All entrants must be U.S. residents, ages 18 years or older, and must provide a valid email address
• No Post Office Boxes or International addresses .
• 5 Winners will be picked at random and receive the San Andrea Prize Pack.
• Winner have 24 hours to claim their prize, otherwise the prize will be re-awarded.
GOOD LUCK 🙂
New to HipHopFirstClass? We bring you the latest Hip-Hop news–Free in your mailbox every morning. Click here to subscribe !
RELEASE AND INDEMNIFICATION:
BY ENTERING THE SWEEPSTAKES, ENTRANTS RELEASE AND HOLD HARMLESS WARNER BROS. ENTERTAINMENT INC. AND EACH OF ITS RESPECTIVE PARENTS, DIVISIONS, AFFILIATES SUBSIDIARIES, AGENTS AND ADVERTISING AGENCIES (COLLECTIVELY, "WBEI") FROM AND AGAINST ANY AND ALL LOSSES, DAMAGES, RIGHTS, CLAIMS, AND ACTIONS OF ANY KIND ARISING IN WHOLE OR IN PART, DIRECTLY OR INDIRECTLY, FROM THE SWEEPSTAKES OR PARTICIPATION IN ANY SWEEPSTAKES-RELATED ACTIVITY (INCLUDING WITHOUT LIMITATION THE REMOVAL FROM THE SITE OF, OR DISCONTINUATION OF ACCESS TO, ANY MATERIALS), OR RESULTING DIRECTLY OR INDIRECTLY, FROM ACCEPTANCE, POSSESSION, USE, OR MISUSE OF ANY PRIZE AWARDED IN CONNECTION WITH THE SWEEPSTAKES, INCLUDING WITHOUT LIMITATION PERSONAL INJURY, DEATH, AND/OR PROPERTY DAMAGE, AS WELL AS CLAIMS BASED ON PUBLICITY RIGHTS, DEFAMATION, AND/OR INVASION OF PRIVACY.
LIMITATION OF LIABILITY:
IN NO EVENT WILL THE WBEI BE RESPONSIBLE OR LIABLE FOR ANY DAMAGES OR LOSSES OF ANY KIND, INCLUDING WITHOUT LIMITATION DIRECT, INDIRECT, INCIDENTAL, CONSEQUENTIAL, OR PUNITIVE DAMAGES, ARISING OUT OF ANY ACCESS TO AND/OR USE OF THE SWEEPSTAKES SITE, THE DOWNLOADING FROM AND/OR PRINTING MATERIAL DOWNLOADED FROM THE SWEEPSTAKES SITE, THE REMOVAL FROM THE SWEEPSTAKES SITE OF, OR DISCONTINUATION OF ACCESS TO, ANY MATERIALS, OR THE ACCEPTANCE, POSSESSION, USE, OR MISUSE OF, OR ANY HARM RESULTING FROM THE ACCEPTANCE, POSSESSION, USE OR MISUSE OF, OR PARTICIPATION IN, ANY PRIZE AWARDED IN CONNECTION WITH THE SWEEPSTAKES. WITHOUT LIMITING THE FOREGOING, THE SWEEPSTAKES, ALL PRIZES, AND ALL MATERIALS PROVIDED ON OR THROUGH THE SITE ARE PROVIDED "AS IS" WITHOUT WARRANTY OF ANY KIND, EITHER EXPRESS OR IMPLIED, INCLUDING WITHOUT LIMITATION THE IMPLIED WARRANTIES OF MERCHANTABILITY, FITNESS FOR A PARTICULAR PURPOSE, AND NON-INFRINGEMENT.