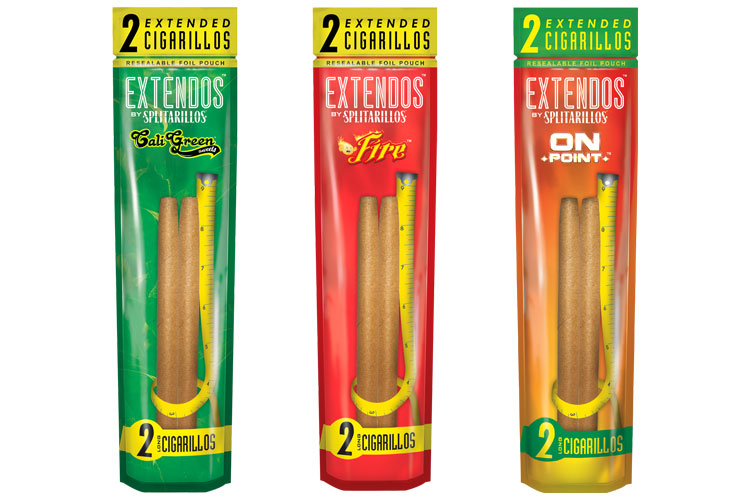 Bored of the same old cigars? Want to try one that has personality of its own!? Well look no further,Trendsettah USA Inc., is blazing its trail in the tobacco industry once again with its newest product, Extendos™ by Splitarillos®.
At 8.5" long, Extendos™ are extended cigarillos – double the length of a standard 4.25" cigarillo. This latest innovation further establishes Trendsettah as an industry leader and a growing competitor in the tobacco market.
Extendos brings to you double the size of a normal cigarillo at 8.5″ long!! That means double the enjoyment!  To make life a bit simpler for those that are always on the go, they are sold two to a pouch.  Did I mention that the pouch is resealable?! This is a major plus as we know that life does not always allow you to enjoy your cigar, so the resealable pouch give s you the option of saving your Extendo for a later time!
Now most people have a keen taste for cigars that have a rich flavor! Well Extendos will do wonders for you as they have a one of a kind flavorful line up!
The Extendos are available in five unique full bodied  flavors;  including OG SWEET™ ; ultra-sweet blend LOUD™ ; distinctive CALI GREEN™; fruit punch-flavored FIRE™; and mango/peach-flavored ON POINT.™
I was able to try both the OG SWEET and LOUD Extendos; the flavor is not only unique but it also lasts throughout the entire 8.5″ cigarillo! And let me add that finishing an 8.5″ cigar is not something you would normally do within a few minutes, so I made use of the resealable pouch and to my amazement The Extendos did not lose their flavor or freshness after waiting 8 hours to finish it.
I would personally take interest in trying the FIRE and ON POINT flavors as those seem to scream out tropical vacation!
As if those five unique flavors were not enough there will be future flavor profiles will be announced in the coming weeks. This introduction is the latest game-changing milestone for the tobacco industry.
"The cigar industry has seen three major milestones in the last 10 years. The introduction of a variety of flavors that appeal to our adult consumer, foil wrapped cigars replaced the industry standard cellophane to assist in freshness, and the re-sealable pouch was introduced and changed the way and quantity in which cigars were sold," continued Mr. Schoep. "We feel Extendos™ is the next industry breakthrough."
"Standard cigarillos are made by halving the 8.5-inch product to create multiples. By simply omitting the process, we've recognized an opportunity that some 100 year-old companies didn't see," Schoep said. "Stay tuned for more innovation to come from Trendsettah, Inc."
Extendos™ are now available in all California Sam's Clubs and will officially launch at the National Association of Tobacco Outlets (NATO) Show at the Paris Las Vegas, April 21-23, 2015.
For more information on Trendsettah USA, Inc. and its products, visit http://trendsettah.com/, or find them on Facebook, Twitter @trendsettahlife, and Instagram @Trendsettah_inc.

Extendos giveaway
Now here is a very nice surprise for all of our fans, we are going to give you a shot a winning some Extendos. But first and foremost in order for you to enter you must be over 18 years of age.
We will pick 8 winners  🙂
Now all you have to do is comment on the bottom section and state the brand name of the cigarillos that we reviewed today. (Hint: E_______ )
*Must be 18 yrs or older to participate
* Giveaway will end on June 12, 2015 9:00 PM CST.
* 8 Winners will receive one pouch of Extendos
* Winners will be selected using a random number generator. You'll be contacted by email, so make sure to use a real email address.
* If the winner does not claim the prize within 24 hours a new winner will be randomly drawn.
*8 Winners will be chosen
*We will require ID verification to verify the winner is over 18
GOOD LUCK