VACATION (starring Ed Helms, Christina Applegate, Leslie Mann, Chris Hemsworth, and Chevy Chase ) is coming to a theatre near you and we want to make sure that you get the opportunity to catch all the laughs with our VACATION "Prize Pack" Sweepstakes.
The next generation of Griswolds is at it again. New Line Cinema's "Vacation," starring Ed Helms ("The Hangover" films) and Christina Applegate (the "Anchorman" films), takes the family on the road for another ill-fated adventure. The film marks Jonathan Goldstein & John Francis Daley's directorial debut.
Following in his father's footsteps and hoping for some much-needed family bonding, a grown-up Rusty Griswold (Helms) surprises his wife, Debbie (Applegate), and their two sons with a cross-country trip back to America's "favorite family fun park," Walley World.
Rounding out the cast are Leslie Mann ("The Other Woman") as Rusty's sister, Audrey; Skyler Gisondo ("Night at the Museum: Secret of the Tomb," "Hard Sell") and Steele Stebbins ("A Haunted House 2") as Rusty's sons, James and Kevin; with Chris Hemsworth (the "Thor" films) in the role of Stone Crandall, Rusty's irritatingly successful brother-in-law, Beverly D'Angelo and Chevy Chase as Ellen and Clark Griswold from the classic "Vacation" comedies.
Check out the Trailer and enjoy a few laughs 🙂 !!

—- (5 Winners Will Receive)—-
1 – Bucket Hat ($7)
1 – Men's Navy T-Shirt ($6)
1 – Beach Ball ($2)
1 – Hollywood Movie Money vouchers, redeemable toward 2 Tickets in total to see VACATION at participating theaters ($24)
1 – Movie Posters ($10)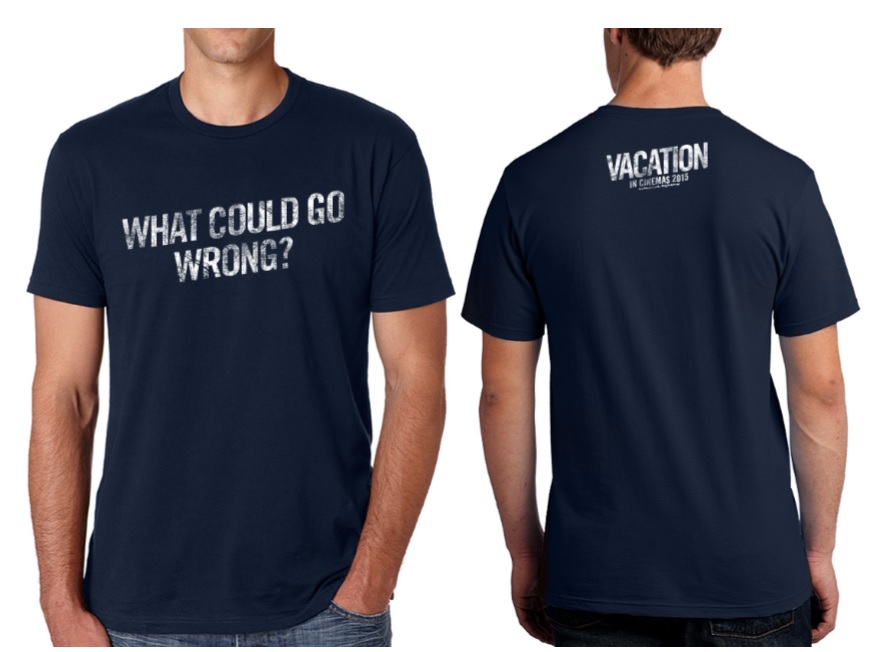 Ok, so here is how you enter!!
In order to enter this giveaway, enter #Vacation on the comment section below!
For added entries share this giveaway along with #Vacation on your twitter and Facebook pages and tag us in it!#HipHopFirstClass
• Giveaway will end on July 29 , 2015 at 9 AM CST.
• Winners will be selected using a random number generator. You'll be contacted by email.
• All entrants must be U.S. residents, ages 18 years or older, and must provide a valid email address
• No Post Office Boxes or International addresses .
• 5 Winners will be picked at random and receive the Vacation Prize Pack Giveaway.
• Winner have 24 hours to claim their prize, otherwise the prize will be re-awarded.

 GOOD LUCK!!! 🙂
New to HipHopFirstClass?

We bring you the latest Hip-Hop news–Free in your mailbox every morning. Click

here to subscribe !
RELEASE AND INDEMNIFICATION:
BY ENTERING THE SWEEPSTAKES, ENTRANTS RELEASE AND HOLD HARMLESS WARNER BROS. ENTERTAINMENT INC. AND EACH OF ITS RESPECTIVE PARENTS, DIVISIONS, AFFILIATES SUBSIDIARIES, AGENTS AND ADVERTISING AGENCIES (COLLECTIVELY, "WBEI") FROM AND AGAINST ANY AND ALL LOSSES, DAMAGES, RIGHTS, CLAIMS, AND ACTIONS OF ANY KIND ARISING IN WHOLE OR IN PART, DIRECTLY OR INDIRECTLY, FROM THE SWEEPSTAKES OR PARTICIPATION IN ANY SWEEPSTAKES-RELATED ACTIVITY (INCLUDING WITHOUT LIMITATION THE REMOVAL FROM THE SITE OF, OR DISCONTINUATION OF ACCESS TO, ANY MATERIALS), OR RESULTING DIRECTLY OR INDIRECTLY, FROM ACCEPTANCE, POSSESSION, USE, OR MISUSE OF ANY PRIZE AWARDED IN CONNECTION WITH THE SWEEPSTAKES, INCLUDING WITHOUT LIMITATION PERSONAL INJURY, DEATH, AND/OR PROPERTY DAMAGE, AS WELL AS CLAIMS BASED ON PUBLICITY RIGHTS, DEFAMATION, AND/OR INVASION OF PRIVACY.
LIMITATION OF LIABILITY:
IN NO EVENT WILL THE WBEI BE RESPONSIBLE OR LIABLE FOR ANY DAMAGES OR LOSSES OF ANY KIND, INCLUDING WITHOUT LIMITATION DIRECT, INDIRECT, INCIDENTAL, CONSEQUENTIAL, OR PUNITIVE DAMAGES, ARISING OUT OF ANY ACCESS TO AND/OR USE OF THE SWEEPSTAKES SITE, THE DOWNLOADING FROM AND/OR PRINTING MATERIAL DOWNLOADED FROM THE SWEEPSTAKES SITE, THE REMOVAL FROM THE SWEEPSTAKES SITE OF, OR DISCONTINUATION OF ACCESS TO, ANY MATERIALS, OR THE ACCEPTANCE, POSSESSION, USE, OR MISUSE OF, OR ANY HARM RESULTING FROM THE ACCEPTANCE, POSSESSION, USE OR MISUSE OF, OR PARTICIPATION IN, ANY PRIZE AWARDED IN CONNECTION WITH THE SWEEPSTAKES. WITHOUT LIMITING THE FOREGOING, THE SWEEPSTAKES, ALL PRIZES, AND ALL MATERIALS PROVIDED ON OR THROUGH THE SITE ARE PROVIDED "AS IS" WITHOUT WARRANTY OF ANY KIND, EITHER EXPRESS OR IMPLIED, INCLUDING WITHOUT LIMITATION THE IMPLIED WARRANTIES OF MERCHANTABILITY, FITNESS FOR A PARTICULAR PURPOSE, AND NON-INFRINGEMENT.