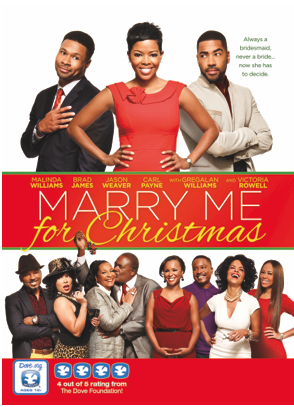 Marry Me For Christmas has everyone talking and we want to make sure that you know what all the buzz is about! What better way to bring our readers in the loop than by giving away 3 DVD's to celebrate its DVD release!! That's right, we are giving away 3 DVD's to three of our lucky readers so make sure you sign up for your chance to win! 🙂
Director Roger Melvin's MARRY ME FOR CHRISTMAS available on DVD on October 27, 2015.
Starring: Malinda Williams ("Soul Food"), Brad James ( Prisoners, For Better or Worse ), Jason Weaver ( Drumline, The Lady Killers), Carl Anthony Payne ("Martin", The Messenger ), GregAlan Williams (ABC's "Secrets and Lies"), and Victoria Rowell (CBS's "The Young and the Restless")
Synopsis: Smart, stylish Marci Jewel is the owner of an up-and-coming ad agency and thrilled with her single life in New York. While all of her cousins are married and having babies, Marci remains the lone holdout in the large Chandler family clan. As the family's epic Christmas celebration is about to start, Marci promises to come home for the holidays for the first time in years. With a deadline looming for a new client, she drags her employee Adam in tow to Atlanta and does the only thing she can in the face of unbearable pressure from her family: fakes a fiancé. While caught up in the family's frenetic holiday drama, Marci leans some unexpected lessons about love, trust and family, particularly when it comes to her new "fiancé" and lifelong friends.
(3 Winners Will Receive)
1 -Marry Me For Christmas DVD
In order to enter this giveaway, enter #Marry Me For Christmas on the comment section below!
For added entries share this giveaway along with #MarryMeForChristmas on your twitter and Facebook pages and tag us in it!#HipHopFirstClass
• Giveaway will end on November 1 , 2015 at 3 PM CST.
• Winners will be selected using a random number generator. You'll be contacted by email.
• All entrants must be U.S. residents, ages 18 years or older, and must provide a valid email address
• No Post Office Boxes or International addresses .
• 3 Winners will be picked at random and receive the Marry Me For Christmas DVD.
• Winner have 24 hours to claim their prize, otherwise the prize will be re-awarded.
GOOD LUCK 🙂
New to HipHopFirstClass? We bring you the latest Hip-Hop news–Free in your mailbox every morning. Click here to subscribe !