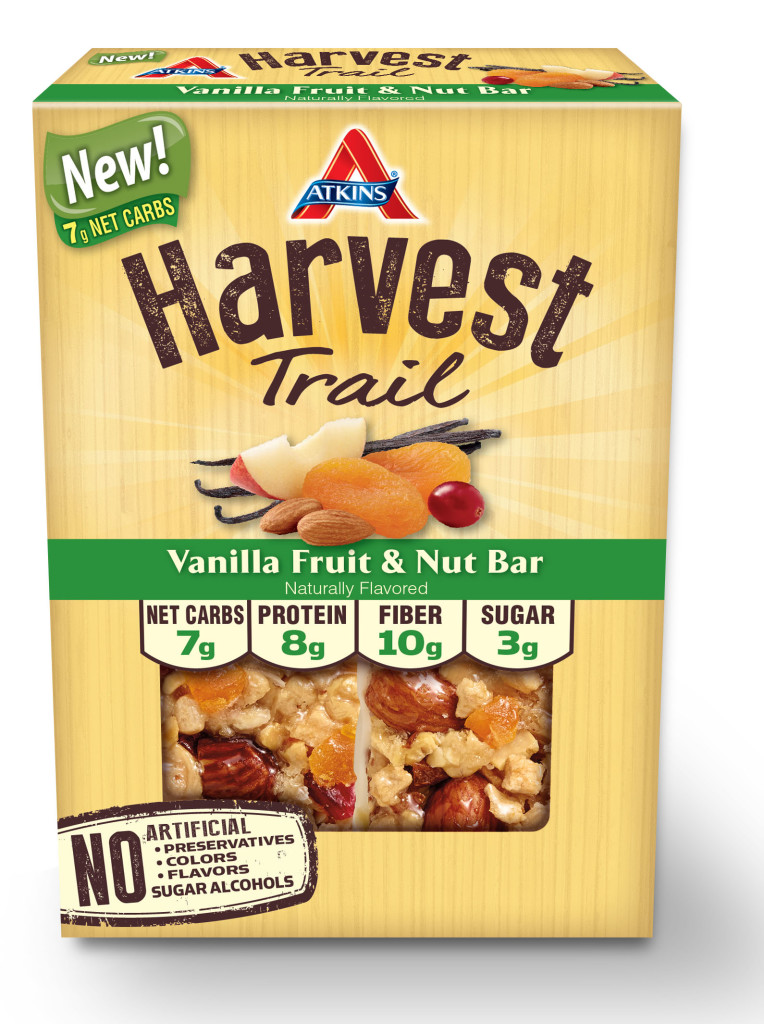 Atkins Harvest Trail Bar is hitting store shelves this month and we were able to get an exclusive first-taste of this new exciting product!  The Atkins Harvest Trail Bar is the first non-weight loss product, but it still holds true to their mission of low-carb eating.
The bars come in four flavors — all offering a simpler, low-carb snack with less sugar and lower carbohydrates than traditional nutritional bars– including Dark Chocolate Peanut Butter, Dark Chocolate Sea Salt Caramel, Dark Chocolate Cherry & Nuts, and Vanilla Fruit and Nut.
Personally we thought the Vanilla Fruit and Nut was exceptional as the taste not only unique but very inviting as well! This creamy and sweet vanilla yogurt bar sprinkled with fruit and nuts will leave you feeling light with just seven grams of net carbs, and full of protein and fiber.
The bars are full of good ingredients, including nuts as the first ingredient, and contain NO artificial colors, flavors, preservatives or sugar alcohols. We found that the bars were healthy enough and made with simple ingrediants that even the kids can have one as a snack. My daughter also became a fan of the Atkins Harvest Trail Bars and she quickly noticed that the bars did not have a bland taste, she mentioned that it tasted just as good as candy covered fruit!
For those of you who are always on the go, these come in very handy as a snack to hold you over until you can finally sit down to have a meal. As a matter of fact as I sit here typing this review I am actually enjoying an Atkins Harvest Trail Bar!
I also found these to be very useful as a quick protein snack right before getting my daily run! The taste is one of a kind and they keep you satisfied yet not overly full. The possibilities are endless with the bar!
The bar is also high in fiber; it is actually better than eating a salad as the bar has a great source of protein, less than four grams of sugar (that right less than 4 GRAMS!!), no artificial colors, flavors, preservatives or sugar alcohols and only seven grams of net carbs or less!!! From our findings we can clearly see that Atkins Harvest Trail Bar has literally raised the bar! 🙂
Additionally, we were also able to hear more about the Harvest Trail Bar product line directly from Colette Heimowitz, the VP Nutrition Communication & Education at Atkins. On the call, Colette gave an overview of the product and answer every question that we had.
We highly recommend the Atkins Harvest Trail Bar as they have passed our taste test and they are natural and more importantly they have a high value in living a healthy lifestyle.
The Atkins Harvest Trail Bars hit store shelves in mid October 2015 at select stores MSRP $6.48
Make sure you check out Atkins social media channels below!
SOCIAL HANDLES
This post was sponsored by the Role Mommy Writer's Network.
New to HipHopFirstClass? We bring you the latest Hip-Hop news–Free in your mailbox every morning. Click here to subscribe !