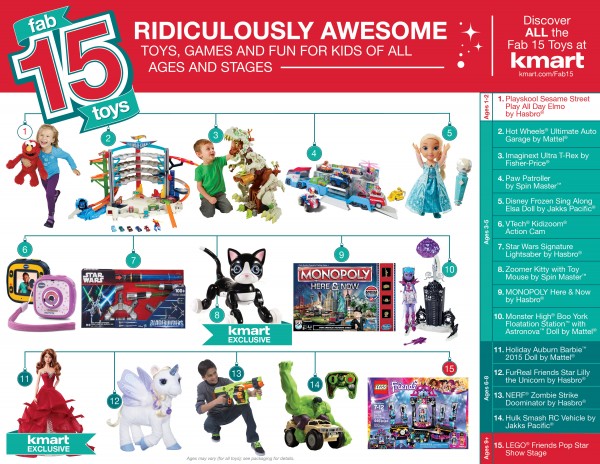 Every year every parent wants to hunt down the newest, coolest, and trendiest toys for their kids. You might say that all the running around and endless research is worth it, just to see your kids eyes light up and hear those awesome words, "You're the best mom/dad ever!" The good news is you don't have to go through all the trouble of toy hunting with long waiting lines and crowded stores because Kmart has already done it for you.
Kmart Fab 15 is the answer for all of your Christmas toy shopping! There is no need to scurry around all over town and overwhelm yourself, because Kmart has put together a toy lineup that will help you save time and as always, with Kmart's low prices, it will help save your wallet. How do they make it so easy you may ask?! Well one thing is for sure, it did not happen overnight! You see Kmart took the time to listen to parents and kids for their awesome toy selection.
Kmart Fab 15 Your kids will love it!
Kmart boasts ridiculously awesome toys and games for kids of all ages and stages, which comprises Kmart-exclusive toys and hot brands like Disney's Frozen, Star Wars, LEGO®, Barbie™ and NERF,® is carefully curated based on industry trends, input from parents and kids, and more than 50 years of experience in knowing what toys kids love to play with and find under their Christmas trees.
Check out the Kmart Fab 15 toy list and their 2015 toy book and I guarantee that you will find every single toy you will need to make your child's Christmas a memorable one! Kmart.com/Toys
I must admit this is literally a Fablist! 🙂
When Kmart thought this up they they hit the nail on the head, what is there not to love from the list?! Kmart.com/Toys
My daughters who are 12 & 4 want, love and as they would say, need all the toys on this list. As a father of two girls, pink and princess are big in this household. However, this year brought forth a surprise as my 4 year old's Santa list was a request for the Hot Wheels Ultimate Auto Garage by Mattel and of course the Sing Along Else doll was on her list as well. I for one am excited to see her reaction when she opens both gifts as they are both completely different.
I recall in my younger years I would always be excited to receive Hot Wheels toys and I cant help but to keep smiling as I see that my youngest daughter will enjoy the same line of toy that I did when I was a small child.
Its not by chance that many of these toys have been sought out by kids year in and year out as Kmart Fab 15 list features the hottest toys for the 2015 holiday season, which have been tested by
Kmart's first-ever Kid Toy Advisory Board – a select group of kids of Kmart employees who are serving as toy experts and holiday toy consultants.
Now if I recall correctly, the ultimate toy that my daughters received hands down was the Barbie Dream House. So I'm very excited  to see if this years gifts will out do the previous years! My 12 year old has been asking all year (literally!!) for Lego Friends Pop Star Show Stage and my 4 year old since she laid eyes on Kmart's exclusive Zoomer Kitty with toy mouse, she hasn't been able to stop talking about how that would complete her Christmas list!
Now to make your Christmas even easier, Kmart is offering you a chance to win all Kmart Fab 15 Toys!! Yes, you read correctly, all Fab 15 Toys! Via the Shop Your Way sweepstakes
Here are all the details WIN Fab 15 Toys
The Kmart Fab 15 list of hot holiday toys includes
• Hot Wheels® Ultimate Auto Garage by Mattel®
• Imaginext Ultra T-Rex by Fisher-Price®
• Paw Patroller by Spin Master™
• Disney Frozen Sing Along Elsa Doll by Jakks Pacific®
• VTech® Kidizoom® Action Cam
• Star Wars Signature Lightsaber by Hasbro®
• Zoomer Kitty with Toy Mouse by Spin Master™ (Kmart exclusive)
• MONOPOLY Here & Now by Hasbro®
• Monster High® Boo York Floatation Station™ with Astronova™ Doll by Mattel®
• Holiday Auburn Barbie™ 2015 Doll by Mattel® (Kmart exclusive)
• FurReal Friends Star Lilly the Unicorn by Hasbro®
• NERF® Zombie Strike Doominator by Hasbro®
• Hulk Smash RC Vehicle by Jakks Pacific®
• LEGO® Friends Pop Star Show Stage
Members and customers can shop for any of the items on the Fab 15 list and hundreds of other exclusive toys from brands and characters kids know and love at local Kmart stores nationwide or online anytime at
 Kmart.com/Toys
.
What are you waiting for?!! Enter Now!!
GOOD LUCK!!!
Disclosure: This is a sponsored post on behalf of the Role Mommy Writers Network and Kmart. All opinions are 100% my own.
​​